EXHIBIT

Alaska, State of

AUTHORIZED REPRESENTATIVE

Mr. Morris Ford, Director

Travel Division, Department of

__Economic Development & Planning

Post Office Box 2391

Juneau, Alaska

907 JU 65284

__and

Mr. Jack Anderson

Director of Alaska Pavilion Concessions

Alaska Crafts & Culture Corp.

1016 E. Fourth Avenue

P.O. 3-098 E.C.B.

Anchorage, Alaska

FAIR CONTACT

Mr. Michael Pender

CONTRACT SIGNED

February 28, 1961

ADMISSION

Free

CONTRACTOR

F. D. Rich

Stamford, Conn.

LOCATION

Block 41, Lot 4

State Area

AREA

32,277 sq. ft.

ARCHITECT

Olson and Sands

Post Office Box 2331

Juneau, Alaska

__and

Mr. Gordon Mandeville

Mandeville and Burge

500 Union Street

Seattle 1, Washington

206 MU 2-1020

__and

Mr. Walter Stengel

343 Manville Road

Pleasantville, New York

914 RO 9-54431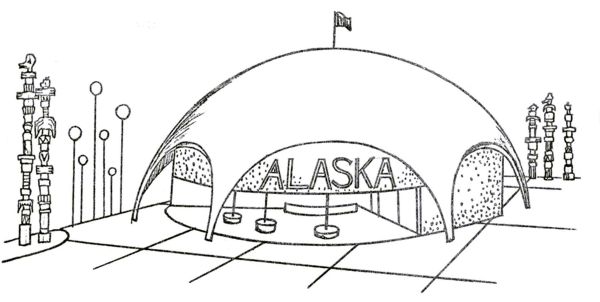 SOURCE: 1964 World's Fair Information Manual
FEATURES

The Alaska Pavilion is a white, igloo-shaped building. Three 30 foot totem poles, originally carved by Indians for the St. Louis Fair of 1904 are in front of the building.

The exhibits show Eskimo and Indian life, the Alaskan fishing industry and the state's booming development-especially a new coastal ferry system and plans for the largest dam in the free world. There is an exhibit by Alaskan artists, and wild life is represented by stuffed specimens of bears, a walrus head, a 74 pound salmon, plus moose, caribou and others.




In the igloo's second floor is a theatre with a 32 square foot topographical model of Alaska. During a narration, portions of the model light up, and the dome itself becomes a planetarium portraying the skies over Alaska from twilight to dawn. Slides depict the state's industries and people at work. The show ends with a colorful display of simulated northern lights (aurora borealis).




In the area behind the Pavilion, Indian and Eskimo dance groups perform and craftsmen carve in wood and whalebone. Some of these handiworks are for sale.
---
State of Alaska
Source: NY World's Fair Publication For Those Who Produced the New York World's Fair 1964-1965