EXHIBIT

All-State Properties and Macys

(Leisurama)

AUTHORIZED REPRESENTATIVE

Mr. Jerome Wolk, Executive Vice-Pres.

__and

Mr. Joel Jablons, Director of

_Advertising and Public Relations

230 Park Avenue

New York 17, New York

MU 6-5320

__and

All-State Leisurama

New York World's Fair

World's Fair, New York, 11380

888-9858

FAIR CONTACT

Miss Phyllis Adams

CONTRACT SIGNED

November 27, 1963

LOCATION

Block 17; Lot 7

Court of the Moon

Industrial Area

AREA

15,731 sq. ft.

ARCHITECT

Stanley H. Klein

89-31 161st Street

Jamaica, New York

OL 7-0300

CONTRACTOR

All-State Properties, Inc.

ADMISSION

Free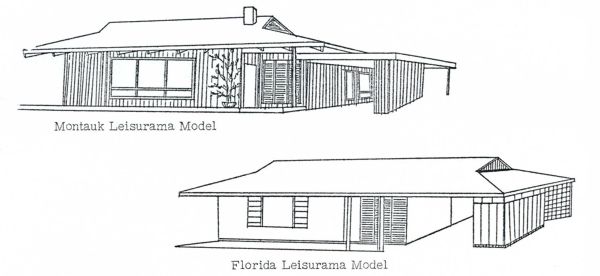 SOURCE: 1964 World's Fair Information Manual
FEATURES

All-State Properties, Inc. is exhibiting two homes at the World's Fair which are sold completely furnished at selected sites in Montauk, Long Island or Ft. Lauderdale, Florida. The basic Leisurama home features lifetime guaranteed U. S. Plywood redwood siding. The Convertible priced at $13,490 on a 75 by 100 foot plot, has four panelled rooms and is designed to accommodate a family of four. It contains a living room, dining area, kitchen and a den which is convertible for night use as a double bedroom, and a full bathroom. The Expanded Convertible adds two bedrooms and a powder-room to the basic floor plan, which is priced at $16,490 on a 75 by 100 foot plot. These houses are fully insulated and heated by gas fired warm air. The Florida model of the Expanded Convertible - called The Solo is built of masonry block and stucco. It is displayed as delivered with plaster walls and ceilings.

Furnishings of the houses have been selected by Matthew Sergio, A. I. D. , head of Macy's decorating department. Each item was chosen for attractiveness and quality as well as practicality. Mostly walnut furniture was used to blend with he interior walls of the houses.




Items delivered with the home, in addition to furniture, include Melmac china, glassware, towels, blankets, napkins and flatwear, Formica kitchen counter tops, shower curtains, bathroom tiles and interior moldings which can be coordinated with a choice of fabrics and colors for the basic color scheme the customer selects. The General Electric kitchen comes equipped with refrigerator, estate range, washer-dryer combination and automatic dishwasher. The General Electric Company is supplying equipment and United States Plywood Corporation is providing the exterior siding and interior paneling. Kitchen cabinets are by Lakeville and aluminum doors and windows by Portalume.




Conceived in terms of a vacation retreat, or a retirement home, the Leisurama homes are suitable for year-round occupancy in either Montauk, Long Island or Ft. Lauderdale, Florida.