CONCESSION

Monorail

AUTHORIZED REPRESENTATIVE

Mr. H. Glenn Holland

Onew Fawcett Place

Greenwich, Connecticut

203 Normandy 1-7400

PUBLIC RELATIONS AGENCY

Bill Doll and Company

1700 Broadway

New York 19, New York

JU 6-8894

FAIR CONTACT

Mr. William Kane

CONTRACT SIGNED

May 17, 1963

CHARGES

Adults and Children 80c

LOCATION

The periphery of

Block 56, 57 and 58

Lake Amusement Area

ARCHITECT

Sverdrup and Parcel

111 Eighth Avenue

New York 11, New York

CH 3-7308

CAR DESIGNER

Walter Dorwin Teague Assoc.

415 Madison Avenue

New York, New York

MU 8-0100

CONTRACTOR

Crow Construction Company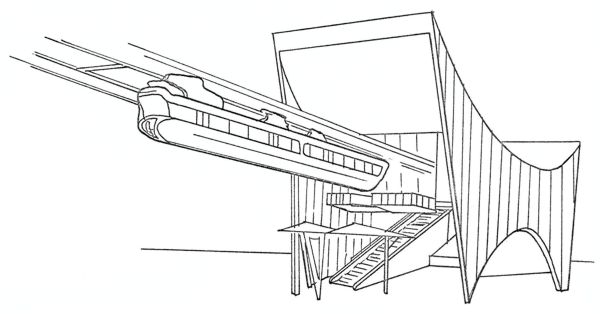 FEATURES

The AMF Monorail system, consisting of two parallel 4,000 foot closed loops around the perimeter of the World's Fair Lake Amusement Area, is designed to incorporate the best features of a scenic ride.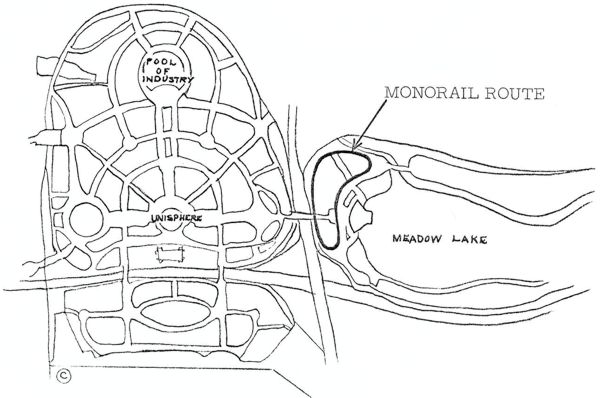 SOURCE: 1964 World's Fair Information Manual
It will have 7 air-conditioned, two car trains, 90 feet long, three on one track and four on the other, and will travel in opposite directions. Above each car there is a pair of rubber-tired four wheeled "bogies" running along the lower flange of an "I" beam track. Each of the automatically controlled trains has a capacity for 80 passengers.

The station has three platforms, including a center platform for passengers boarding on both tracks, with outside platforms for departing passengers. With these facilities two trains can unload and load safely and simultaneously. Visitors will get to and from the platforms via escalators.
---
AMF Monorail
Source: NY World's Fair Publication For Those Who Produced the New York World's Fair 1964-1965