Source: Advertisement, Official Guide - New York World's Fair, 1964 Edition, Time-Life Books, publisher
IT'S FOR YOU -- The Bell System Exhibit of

Communications Past, Present and Future
..Visit the Bell System exhibit and be our guest as upholstered arm chairs, each equipped with its own speaker, take you on a moving tour of the history of communications--one of the theatrical highlights of the Fair.

..Then, see for yourself the new technology that is now bringing people ever closer together, making business more productive and efficient, strengthening our Nation's defense. You and your children can play ingenious electronic games designed to demonstrate these advances.

..This exciting exhibit is easy to find. It's in the heart of the Fair at the head of the Pool of Industry. Come in today--it's all for you!

| | |
| --- | --- |
| | (Right) At the Bell System exhibit, you'll ride in individual easy chairs through the main presentation--see and hear a dramatic show in modern comfort. |

---
Artist's rendering of the serpentine-style telephone booths sponsored by the Bell System at the Fair
SOURCE: Commercial Transparency by Photo Lab, Inc., Washington, DC
BELL TELEPHONE BOOTHS - Luminous canopies of white translucent Plexiglass light more than 100 outdoor telephone stations at the Fair. There are also family-size telephone booths with special microphones and speakers to permit group calls. These paraboloid booths, which can accommodate up to six persons, are glazed across the front with transparent green Plexiglass.
SOURCE: Brochure Plexiglass at the Fair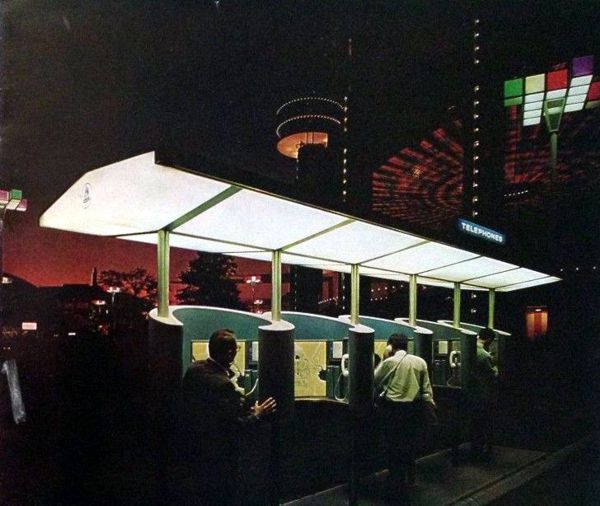 The Bell System floating wing -- 400 feet long, 200 feet wide, 87 feet high -- is composed of two major elements; a chair ride and a series of live demonstrations, displays, and audience participation games. The ride tells the story of communications from bongo drums to satellites. (Courtesy of Bradd Schiffman).
Source: (both) A.T.& T. Photo Archives
Side view showing the ride-train ramp extending into the floating wing. (Courtesy of Gary Holmes).
Source: Gary Holmes Collection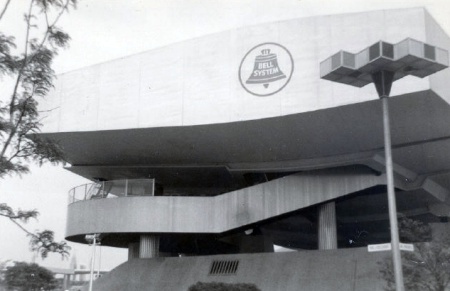 With the Fountains of the Planets. (Courtesy of Bradd Schiffman).
Source: © 2001 Bradd Schiffman - personal photograph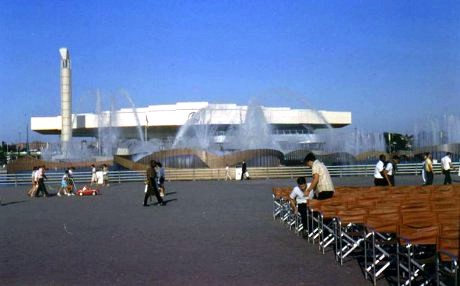 Night view of Travelers and Bell System Pavilions from the Pool of Industry. (Courtesy of Bradd Schiffman).
Source: "United Airlines Presents" Promotional Slide Show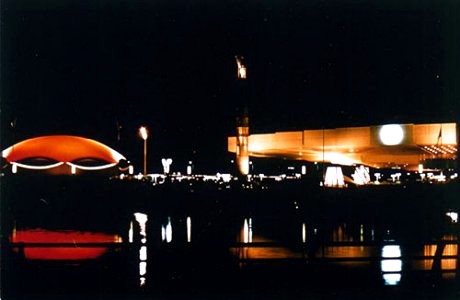 Fireworks explode over the Pool of Industry with the Bell System pavilion brilliantly lighted at night below. (Courtesy of Bradd Schiffman).
Source: "United Airlines Presents" Promotional Slide Show