Easily the Better Living Center's signature exhibit of "high culture," this third floor exhibition featured forty-one paintings and five works of sculpture by some of America's most famous artists from the 17th century to the present. Sponsored by Maine's Skowhegan School of Painting and Sculpture it represented an attempt, as the exhibit's guidebook noted, to show how "the aspects of a changing America are recorded by artists whose accents and manners vary, but whose vision of the truth is steady." This unifying structure, the exhibitors argued, could be seen in works as diverse as an 18th century Gilbert Stuart portrait and a 20th century Jackson Pollock "action painting."
The exhibition was one of the few art exhibits and displays at the Fair to earn praise from the New York Times' art critic, John Canaday. He described "Four Centuries of American Masterpieces" as "closer to being a summary than you would think so small a show could be," and that the works had been "selected with such discernment that this minor exhibition becomes a major pleasure." Canaday's lone complaint? The fact that in order to see the exhibition, one had to follow the proscribed path of seeing the "entire" Better Living Center. But even if the route hadn't been forced upon visitors, it still offended Canaday's sense of esthetics to see such an exhibit in close proximity to displays from Hershey Chocolate, Borden, Sunshine Biscuits and a nine-hole miniature golf course. "They are worth seeing, but to get there, and out again, without suffering spiritual and esthetic offense on the way, is impossible." Because of the Fair's general surroundings, Canaday was of the opinion that art exhibitions in general, even good ones like "Four Centuries," amounted to a waste of time because the proper way to appreciate good art would not be there.
Perhaps it was out of the ordinary to see such an impressive display of American art in close proximity to a musical revue show about a cow. But in the end, that only served to demonstrate the very nature of what the Better Living Center was all about. A pavilion that represented diversity in its truest sense.
---
History in Portraits
Gilbert Stuart tartly maintained that "no one would paint history who could do a portrait," but as the chief depicter of George Washington, he showed that to paint portraits is often to paint great history. Over the centuries, on a less exalted plane, an amazing amount of homely personal history also stuck to the brushes of the portrait painters, but the daguerreotype and the photograph in the end reduced this broad popular stream of American art to a trickle. The rise and decline of portraiture is the most striking theme of a World's Fair exhibit called "Four Centuries of American Masterpieces" and housed in the Better Living Center.
More Doll Than Boy. The first New World painters called themselves artisans and drew picture signs for taverns, or coated fire buckets, depending on the state of business. In that stern and frugal age, a commission for a portrait was a plum. "Limning" a portrait meant producing a flat two-dimensional likeness, and what what gives tang to these works now is the period flavor and not any sureness of craft or conviction of life. Primitive, untutored and serene, the anonymous 1670 Portrait of Henry Gibbs is a charming example of the limner's style.
Portrait Of Henry Gibbs (1670)
The floor is in perspective; little Henry is not. More girl than boy, more doll than either, the child seems to be floating through the picture, not rooted in it. Yet the boy's and the painting's mood of grave, graceful self-possession is undiminished after nearly three centuries. In time, the limners became the itinerant painters who criss-crossed the continent by foot, horseback and wagon well into the 19th century, painting family portraits in return for food and temporary lodging.
Artists of loftier vocation expatriated themselves to study in England and to absorb the classic mastery of Renaissance portraiture. John Singleton Copley was one such, but before he left U.S. shores, he had already put together a masterly portrait gallery of some of his fellow Bostonians. His Portrait of Nathaniel Hard, a famed silversmith and engraver, stares back at the observer with a keen, curious, probing intensity that is uncannily lifelike. As John Adams said of Copley's portraits: "You can scarcely help discoursing with them, asking questions and receiving answers."
Portrait Of Nathaniel Hard (c. 1765-1770)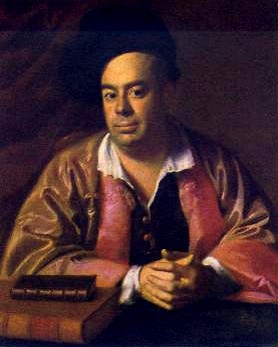 Bravado & Bravery. The idea that portraits were history came naturally to Western Painter George Catlin. In the 1830s he resolved to assemble a pictorial record of the last golden years of the Indians freely living their own lives. He rode across hundreds of miles of unmapped prairie, visited 48 tribes and painted 600 pictures. His Indian Boy is a triumph of photographic realism blended with psychological insight. There is a trace of bravado in the boy's stance, backed by ultimate bravery in the clenched right fist. Around the eyes and mouth is the faint hint of sadness of a boy fated never to roam and rule the land of his father.
Indian Boy (1835)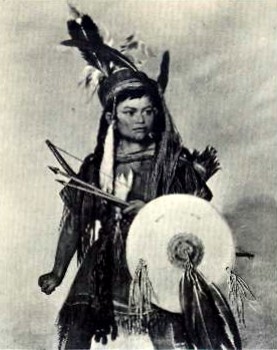 The mask of anguish in Marsden Hartley's The Lost Felice hides a different sort of grief. It is a symbol of womanhood mourning her drowned sons. The 20th century's passion for abstraction makes any representational figure seem accessibly human, but the grieving mother in Hartley's picture resembles a woman only in the way that an eerie echo resembles a voice. The intentional distortions of the 1939 picture ironically complete the cycle begun with the unintentional distortions of the 1670 picture. Perhaps fittingly, the decline of portraiture ends without a portrait
Lost Felice (1939)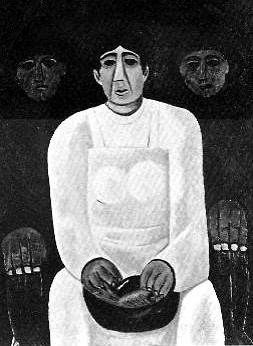 Jackson Pollock (1912-1956)

Arabesque, 1948

Oil on canvas, 37 x 117

Coll. Richard Brown Baker

SOURCE: Souvenir Guidebook, Four Centuries of American Masterpieces