Showing off the latest displays in women's fashion through daily fashion shows, the Crystal Palace of Fashion was undoubtedly ranked as the most important section of the Better Living Center's second floor. The work of top designers like Bill Blass, Anne Klein and Christian Dior were among many modeled in several shows each day. In 1965, the fashion shows were sponsored by Tetley Tea and the programs officially renamed the "Tetley Good Taste Fashion Show" (derived from Tetley's advertising slogan that stressed The Good Taste of Tetley Tea).
In addition to several daily fashion shows, exhibit space was set aside for various companies to exhibit their fashions.
Tetley Good Taste of Fashion Show and Exhibits in the Crystal Palace of Fashion
SOURCE: Tetley Tea Publicity Photos
New York World's Fair 1964-1965 Corporation Records,

Source: Manuscripts and Archives Division, The New York Public Library,

Source: Astor, Lenox and Tilden Foundations

Source: Reproduced here courtesy of The New York Public Library, with permission

Source: May not be reproduced without written consent of The New York Public Library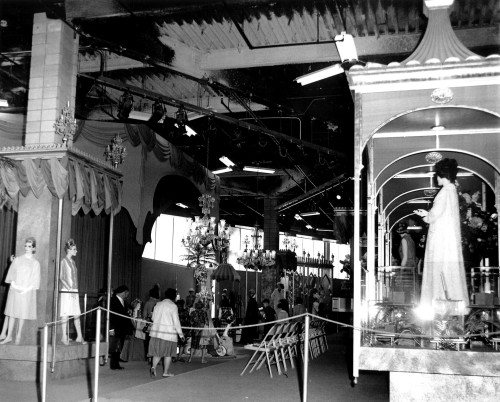 Dress Rehearsals

By Louise Sweeney

The audience helps decide whether a model should wear pink beads, black boots or beige, during this week's fashion shows at the World's Fair.

The daily fashion shows directed by Eleanor Lambert at the Better Living building are dress rehearsals until May 1, according to Miss Lambert. The audience, which camps on the orange carpeted steps of the display area, is helping to select costumes which will be part of the permanent fashion show.

"Should we show this as a wedding dress or an evening dress?" asks commentator Lambert. A model glides out in a white gown paved with appliqued flowers, three-dimensional in effect. The gown is cut as simply as a medieval robe. She models it first as a wedding gown, with a matching veil, then solo as an evening gown.

"It would have to be a wedding gown," pipes up a woman in the audience, "if she wore it in the evening she'd feel like the Queen of May."

Miss Lambert, in her role as commentator and fashion coordinator, is just as frank. Pointing to a model wrapped in a kit fox coat, she said, "That hat." The model touched a poufy lilac snood. "Let it bump out in back like a covered wagon." The model gave it that Conestoga touch, and everyone in the audience murmured approval.

The audience could pick up helpful fashion tips from Miss Lambert's running commentary, too.

"Lighter stockings, whiter stockings," she kept telling the models. "Bright beads on that white dress -- no pearls," she scolded.

"No satin shoes with a cotton dress," sent a model scurrying back off stage. To a suit she said, "You need low-heeled spectators, not those shiny white, high-heeled sling backs."

The crowd watched, fascinated, as Miss Lambert trotted up on the stage, every few seconds, tilting brims, removing jewelry, retying scarves, standing back and squinting at the fashion composition with an artist's eye.

The models themselves lost their usual aloofness in the informal atmosphere of the show. You can't be the glacial beauty when you've just been told, like a naughty little girl, to go back and find that matching babushka.

Backstage, before the show, the models sat shivering in the damp air of the unfinished building. Most of them wore sued jackets or wool coats over their bikini underwear. But one blonde, totally absorbed in putting mascara on her eyebrows, sat in pink lace bra and half slip with only a red straw sailor hat to keep her warm.

Meanwhile, back at the pavilion, spectators can still see nearly an hour of typical American fashion, ranging from pink crocheted play clothes to Sarmi's drifting evening gowns. Among the top designers represented are Don Loper, Mollie Parnis, Ceil Chapman, Anne Fogarty, Bill Blass and Oleg Cassini.

Although the show is still in a state of flux, there's one costume that definitely won't be modeled. It's a black evening gown with a deep-diving bosom. Some one in that critic's choice audience decided it was too decollete.

"We replaced it with a turtleneck evening dress," said a spokesman for the show.

SOURCE: Newsday, January 28, 1964
---
Tea as a tasteful symbol of good things in life is highlighted by a series of Celebrity Tea Tables designed for Tetley by twenty-six celebrated fashion creators from all parts of the world.

The designers and their themes include:

CAPTAIN EDWARD MOLYNEUX

(France)

ANNE KLEIN

(Picnic Tea)

COUNTESS VON ECKERMANN

(Sweden)

ARNOLD SCASSI

(Studio Tea)

ANNE FOGERTY

(Southampton Tea Table)

JOHN WEITZ

(Tea at sea)

ROXANNE

(City Tea Table)

JANE DERBY

(Island Tea Table)

RICHARD TAM

(San Francisco Tea)

PAULINE TRIGERE

(Russian Tea)

OSCAR DE LA RENTA

OF JANE DERBY

(Spanish Tea Table)

BILL BLASS

(Bachelor's Tea Party)

RUDI GERNREICH

(Viennese Tea Table)

HANAE MORI

(Japanese Tea Table)

MOLLIE PARNIS

(Fourth of July Tabke)

SYBIL CONNOLLY

(Ireland)

GEOFFREY BEENE

(Southern Gentleman's Tea)

DAVID KIDD

(Scotland)

COUNT SARMI

(Venetian Tea Table)

HELEN LEE

(Children's Tea Party)

ADELE SIMPSON

(Oriental Tea Table)

ARMI RATIA

(Finland)

and others

---

Two designer tables are on display each week as part of the Tetley Good Taste presentation in the Crystal Palace of Fashion in the Better Living Center.

from the

FALL AND WINTER 1965 COLLECTIONS

of

AMERICAN DESIGNERS

NEW YORK WORLD'S FAIR
---
Tetley's slogan, "THE GOOD TASTE OF TETLEY TEA", suggested an appropriate theme for this showing of fall clothes by famous American designers.

Imagine that you are wearing beautiful clothes. Think where you might wear them and how you would accessorize them. Good taste in fashion, like good taste in all things, is the perfect blend of ingredients, including your own discrimination.

Scene 1 ... GOING PLACES

American designers suggest what to wear to the Fair -- and are giving you a preview of daytime fashion for Fall.

Designers represented: Bill Blass of Maurice Rentner, Lilli Ann, Frechtel, Sarff-Zumpano, David Kidd of Arthur Jablow, Arnold Scassi, Monte-Sanno, and Pruzan, and Shannon Rodgers for Jerry Silverman.

Scene I1 ... SPORTIVE

The way you dress for your favorite sport may sometimes be more of a test of your fashion judgment than how you look at a big party!

Here are some tips on the chic of sports fashion by famous American designers: John Weitz, Anne Klein for Mallory, Anne Fogarty, Ship 'n Shore, The Villager, Rudi Gernreich, and the American Thread Company.

Scene II1 ... FUR IN YOUR FUTURE

It's always good fashion, and good taste, to plan ahead. A fur coat being a major investment for most women, requires careful consideration of not merely your figure, your height and hair coloring, but also the various clothes you will wear under it. So think about your future in fur as you watch this.

Designers represented: Bill Blass of Maurice Rentner, Lilli Ann, Frechtel, Sarff-Zumpano, David Kidd of Arthur Jablow, Arnold Scassi, Monte-Sanno, and Pruzan, and Shannon Rodgers for Jerry Silverman.

Scene IV ... SEEING STARS

The next group of fashion is truly star-studded. Linde Star gems, with their brilliant six-pointed gleam, show that modern science has not only sent us to the stars ... science has brought the stars to us! Linde Star gems are shown with fashions by members of the New York Couture Group.

Scene V ... TEA TIME

For more than a hundred years, the end of the day has been known as tea time -- time for clothes as exhilarating and hospitable as the tradition of tea itself.

Receiving guests for a cozy hour of gossip or a formal tea, you'll wear clothes such as these by: Sarff-Zumpano, Dorian, Robert Strong, John Moore, Arnold Scassi and Bill Blass of Maurice Rentner.

Scene V1 ... GALA FASHIONS

Evening fashion is like any other, a matter of good taste and personal discrimination. American designers are world famous for their conviction that women should wear clothes with grace and charm ... never let her clothes wear her. Tetley, noted for good taste in tea, is grateful to the celebrated designers who have chosen important dresses from their high fashion collections to demonstrate good taste and great glamour for evening wear this season.

They are: Pat Sandler for Highlight, Bill Blass for Maurice Rentner, Adele Simpson, Samuel Winston, Estevez, Anne Fogarty, Monte-Sano and Pruzan, David Kidd for Arthur Jablow, Oscar de La Renta for Jane Derby, Malcolm Starr, Gustave Tassell, Christian Dior-N.Y. Betty Carol of Mam'selle and Straropoulus.

HATS from Madcaps and Lilly Dasche

JEWELRY by Richelieu, K.J.L., Monet, Trifari,

Marvella, Kramer and Vogue

STOCKINGS from Berkshire

GLOVES by Hansen

SHOES from Fiorentina, David Evans, Herbert

Levine and Keds

HANDBAGS by Korent, Tano, Ronay and

Coblentz

SPORT EQUIPMENT from Abercrombie and

Fitch and Sig Buchmayr.
SOURCE: Pamphlet, Tetley Good Taste Fashion Show ... Fall 1965
---
The American Thread Company, parent company of Dawn Yarns, was a major sub-exhibitor of the Crystal Palace of Fashion. This catalog is a popular collectible of the Fair and displays fashions featured in their exhibit at the Better Living Center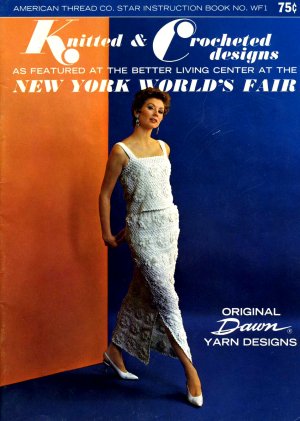 ---
Haircolor Display - 2nd Floor
SOURCE: Photo presented courtesy Bill Cotter collection © 2010 Bill Cotter, All Rights Reserved. See more images from Bill's fabulous collection of World's Fair photographs at his website WorldsFairPhotos.com.