The Changing Face of

Flushing Meadow Park

Winter, 1963
Autumn, 1962. The Industrial and International Areas of the Fairgrounds. Construction continues on the circular shaped General Electric Pavilion. On the other side of the Pool of Industry, work is underway on the Traveler's Insurance Pavilion as well. The reflecting pools for the Lunar and Solar fountains are now in place and work is progressing on the Kodak Pavilion in the lower right-hand corner of the photo. The Van Wyck Expressway extension construction curves along the top of the photograph. At the center left, an outbound airliner from LaGuardia Airport departs over the Fairgrounds.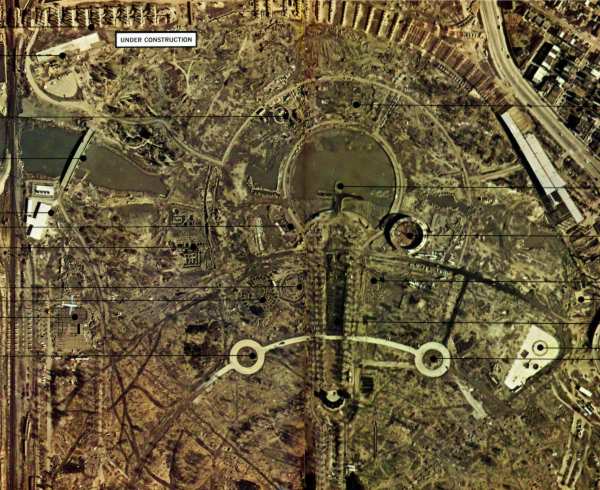 The massive columns of the New York State Pavilion cast visible shadows on the ground in the upper right-hand corner of this view of the State & Federal and Transportation Areas of the Fair. Work is in full swing on the Ford and General Motors Pavilions. The white-roofed "L" shaped building in the lower left of the photo, is the Fair's Press Building.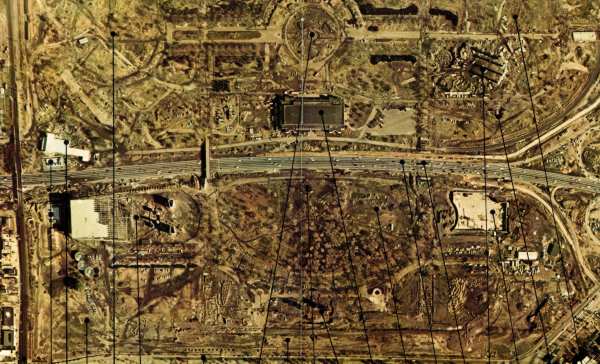 | | |
| --- | --- |
| SOURCE: New York World's Fair Progress Report No. 7, January 24, 1963 | The New York State Amphitheater is the most prominent structure in this view of the Lake Area. The Van Wyck Expressway extension crosses the top of the photo. |