Spring, 1963. With one year to go until the opening of the Fair, Flushing Meadow is a park no more. It has truly become a construction site. Many familiar pavilions are now beginning to rise from the Fairgrounds. Construction of the Bell System pavilion is now underway at the top of the Pool of Industry. Coca-Cola, DuPont, Johnson Wax, IBM and the Tower of Light can be seen taking shape. General Electric now has its famous dome. The Main Entrance to the Fair in the left-center of the picture is nearing completion.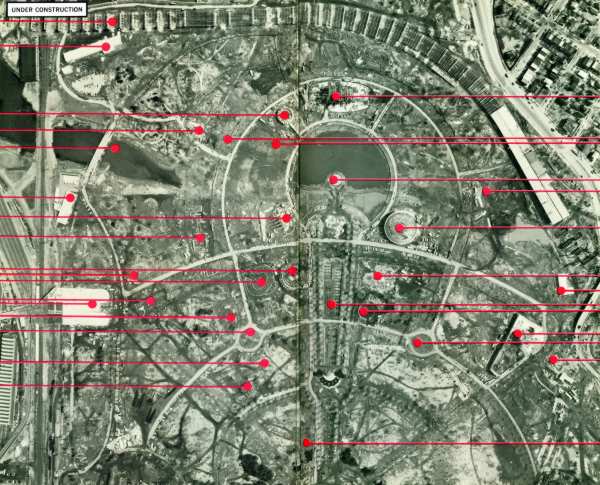 More work abounds in the State & Federal and Transportation Areas. Construction for Unisphere has begun and foundation work is progress for the Federal Pavilion in the circular site in the upper left of the photo. The familiar shapes of the Ford and GM pavilions can be clearly seen. The Port Authority Heliport nears completion in the bottom-center of the photograph and work has begun on the oval-shaped lagoon of the Chrysler exhibit.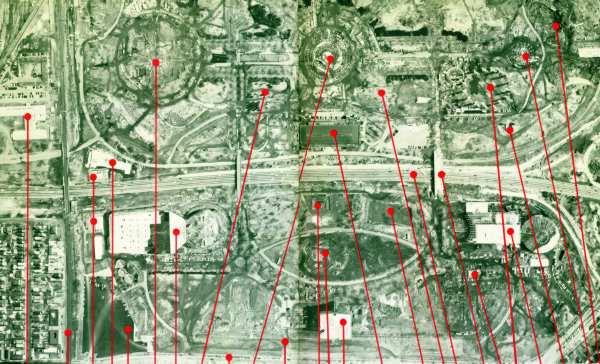 SOURCE: New York World's Fair Progress Report No. 8,

April 22, 1963

The New York State Amphitheater is still the most prominent structure in this view of the Lake Area. Work seems to have gotten underway for the Texas Pavilions and Music Hall in the area just above the Amphitheater..