---

The Sinclair Dinosaurs arrive at

Flushing Meadow!

---
Sinclair's Dinoland dinosaurs were constructed in upstate New York and floated by barge down the Hudson River to the Fair site. The nine dinosaurs on a floating barge caused a traffic jam as people stopped to watch the strange sight. After they arrived at the Fair's Marina, they were trucked to the Sinclair Pavilion site at Flushing Meadow. Josef Seebacher was on hand for their arrival and captured the moment on film.
---

Construction and raising of the crown of the

New York State Pavilion

---
The "crown" of the New York State Pavilion is the massive oval steel structure attached to the tops of the concrete columns that holds the support cables and multi-colored, suspended roof of the "Tent of Tomorrow." Josef Seebacher captured the crown's construction and raising on film in the following shots.
Workmen ready to put the last section of steel in place for the crown.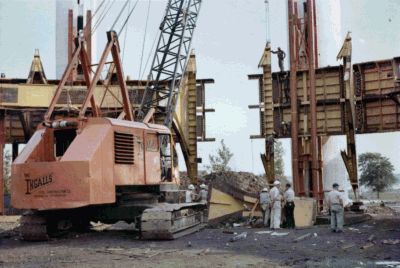 Cranes set the final section in place.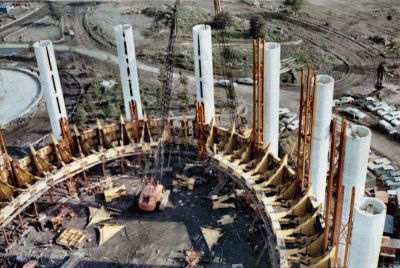 Oval-shaped pieces of the center ring of the roof structure are complete and ready for installation.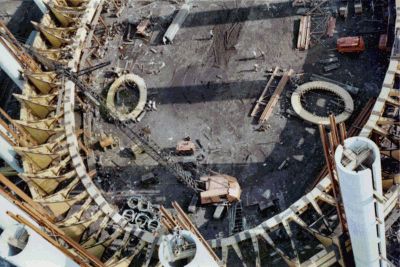 Threading the roof support cables into the central hub.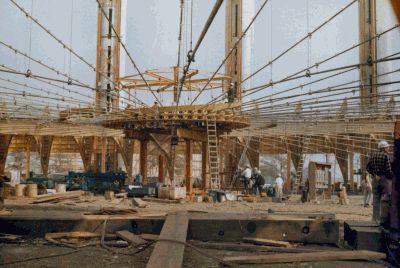 Steel girders support the central section above the ground as the cables are threaded in place.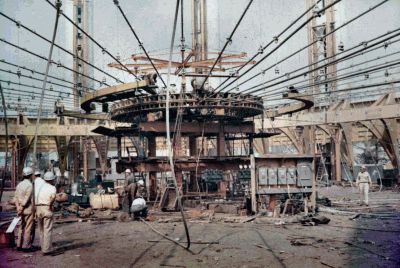 Capping the central hub.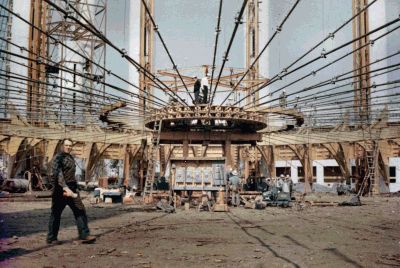 Aerial view of the same.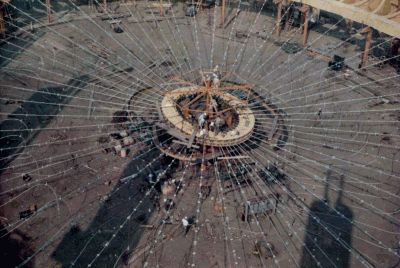 Workmen install the large drainage pipes which would bleed rainwater off the huge roof and funnel it down the interior of the concrete support columns.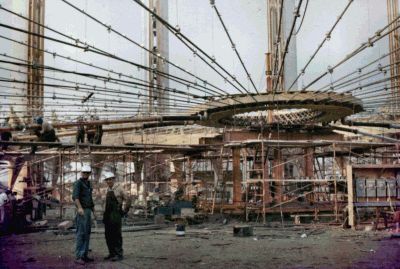 Ground work is nearly completed on the crown.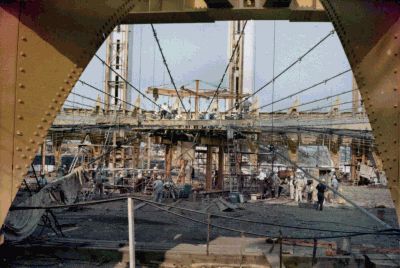 What amazing engineering! This huge steel structure would be raised to the top of New York State's mighty columns.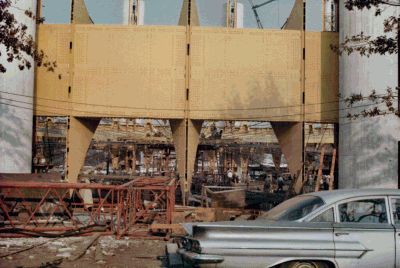 Raising the roof! The structure has been lifted from its supporting girders. Steel tracks can be seen along the inside of the white concrete columns. The roof was raised to the top on these tracks.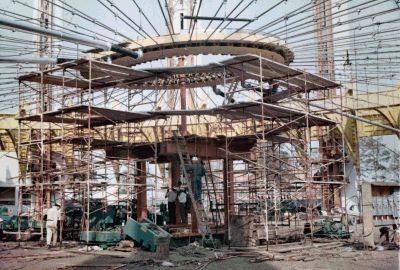 Half-way to the top.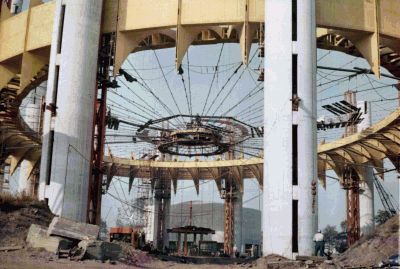 With the crown in place, workmen begin installing the multi-colored panels in the suspended roof of the "Tent of Tomorrow."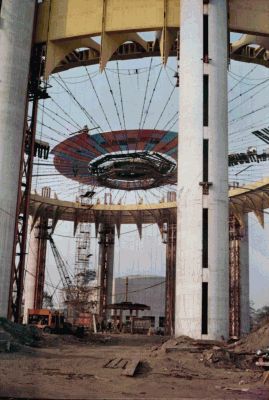 Scaffolding still surrounds the Theaterama building of the New York State Pavilion in Mr. Seebacher's final photo of the building he helped to build.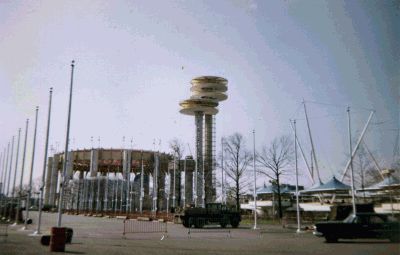 Source: All Photos presented courtesy Karl Baker collection and are © Copyright 2005 Karl Baker, All Rights Reserved