The description of this exhibit from the 1964 Official Guide Book
The description of this exhibit from the 1965 Official Guide Book
The location of this exhibit on the 1964 Official Souvenir Map

CARNIVAL
Fairground rides for all ages are combined with an aquarium and with restaurants that offer entertainment.
Inside this colorful structure are half a dozen rides specially scaled down for youngsters. Outside are other, larger rides that include the "Wild Mouse," a roller coaster and "Scooter" bumper cars.
THE SEA AQUARIUM. In a replica of an ocean liner, tanks of fish may be viewed through portholes.

RESTAURANTS. The Frontier Palace offers a varied menu and can-can dancers. The Carnival Club features discotheque dancing.

¶ Admission: children's rides, 20 and 25 cents each (3 for 50 cents, 7 for $1.00); adult rides, 35 cents and up. Hours: 10 a.m. to 2 a.m.
2.14..04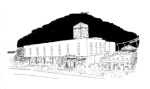 Mr. Jimmy I. C. Chiang of Marshall, Texas, rode in to the rescue in 1965 when he created Carnival on the site of his state's defunct Texas Pavilions and Music Hall exhibit. Now, he contributes news announcements of his participation at the Fair.