EXHIBIT

The Chunky Corporation

AUTHORIZED REPRESENTATIVE

Mr. J. R. Kirk, Exhibit Manager

The Chunky Corporation

655 Dean Street

Brooklyn 38, New York

ST 9-6300

PUBLIC RELATIONS AGENCY

Mr. Gil Coburn

J. Walter Thompson Company

420 Lexington Avenue

New York 17, New york

MU 6-7000

FAIR CONTACT

Miss Phyllis Adams

CONTRACT SIGNED

August 22, 1963

LOCATION

Block 11; Lot 18

Industrial Area

AREA

14,745 sq. ft.

ARCHITECT

Mr. Robert Caigan

400 East 59th Street

New York 22, New york

PL 9-2255

CONTRACTOR

Chunky Corporation

ADMISSION

Free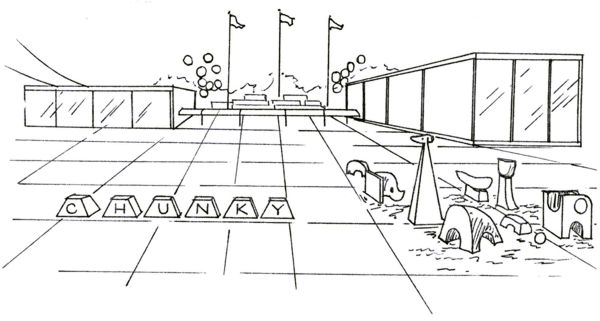 SOURCE: 1964 World's Fair Information Manual
FEATURES

The Chunky exhibit consists of a unique outdoor sculpture "Continuum" together with an ultra-modern candy bar factory.




Particularly appealing to children, the Continuum playground consists of thirteen seemingly unrelated pieces of various sizes and shapes. The unique thing about these pieces is that when the fair visitor looks through the eye-level apertures in the sculpture, two or more of the abstract forms line up to become whole units, such as a man standing on his head, a giraffe, an elephant. The pieces range in size from two to fourteen feet high, and were carved from large plastic blocks which were coated with polished fiberglass.




Candy Factory: Specially built for the Fair, the candy factory is comnposed of twin, glass-walled, air-conditioned units connected by the first outdoor cooling tunnel ever made. This ingenious tunnel is transparent so that the visitor may watch the daily production of thousands of Old Nick candy bars. At one end of the line, candy bar centers are fed onto the conveyor belt, pass through a cascade of milk chocolate and emerge at the other end, wrapped, packaged and ready for distribution to the New York area stores the next day.




There is a sales area where candy bars may be puchased for on-the-spot refreshment or as gifts to take or send to family and friends. There is an Official Candy Taster program wherein children may be appointed to this office to receive candy at certain times during the year.
---
Chunky Candy Pavilion
Source: NY World's Fair Publication For Those Who Built the Fair