Bill Cotter, World's Fair enthusiast, has been collecting images of the 1964/1965 New York World's Fair for many years. He shares with us here some excellent views of The Coca-Cola Pavilion. If you would like to see more images of Bill's fabulous collection of World's Fair images, visit his website WorldsFairPhotos.com.
---
Source: Above photos presented courtesy Bill Cotter Collection and are © Copyright 2007 Bill Cotter, All Rights Reserved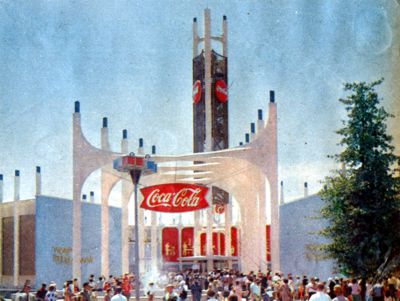 SOURCE: Commercial Transparency by Photo Lab, Inc., Washington, DC
The Coca-Cola Pavilion Commercial Night Shots.
Source: Official World's Fair transparencies by Pana-Vue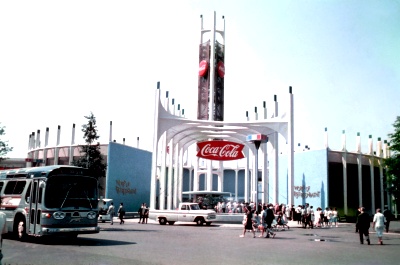 Pavilion Exterior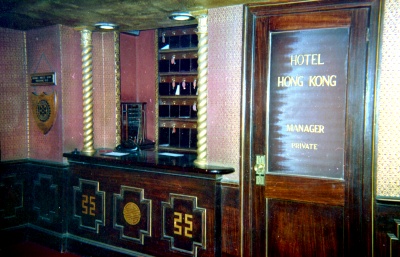 Above: Hotel Hong Kong "Global Holiday" Interior. Below: "Global Holiday" Hong Kong Marketplace Scene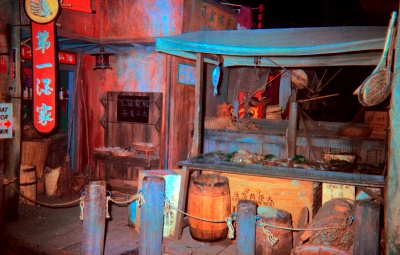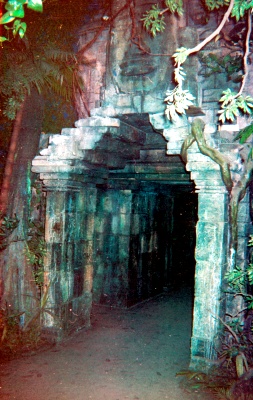 Cambodia's Ankor Wat Temple Entrance in Coca-Cola's "Global Holiday"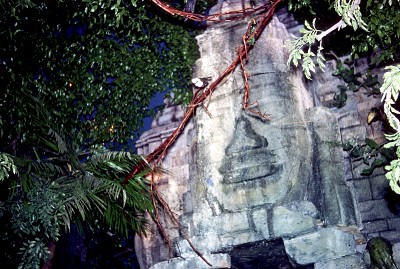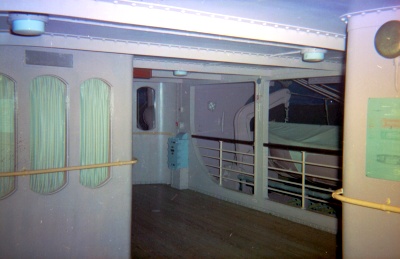 Rio Harbor - Deck of the Cruise Ship in "Global Holiday"
---
The many components of the Carillon in Coca-Cola's tower can be seen in this shot taken at the entrance to the Coca-Cola Pavilion

SOURCE: Presented courtesy Jeff DaSilva © 2007 Jeff DaSilva,

All Rights Reserved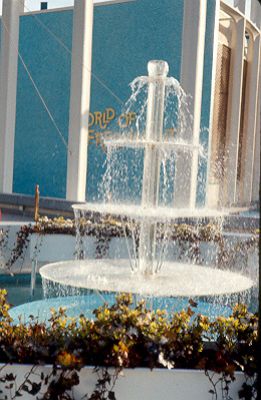 Bavarian Ski Lodge in "Global Holiday"
SOURCE: Commercial Transparency presented courtesy Bradd Schiffman Collection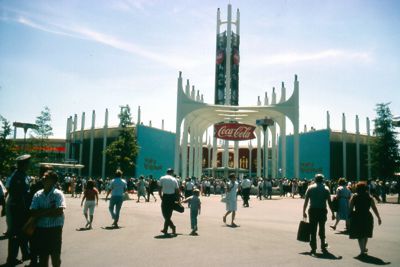 "Global Holiday" Taj Mahal Scene
SOURCE: Commercial Transparency presented courtesy Bradd Schiffman Collection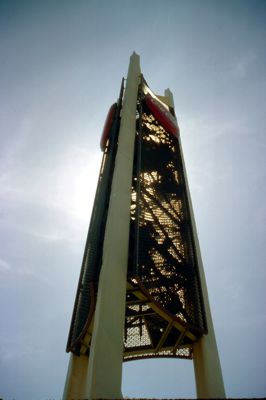 Aerial view of the Coca-Cola Pavilion (View a Larger Version of this Photograph)
SOURCE: New York World's Fair Publicity Photograph presented courtesy Craig Bavaro collection