films are blended into lively stage shows

in two theaters of Du Pont's circular pavilion
Fairgoers wait on the colonnaded "porch" of the Du Pont Pavilion for their turn to see "The Wonderful World of Chemistry" musical revue.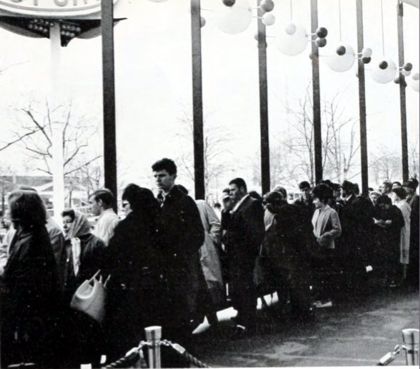 THE DU PONT PAVILION SHOW, "Wonderful World of Chemistry" is a musical revue in which singers and dancers onstage join in musical interplay with other performers on motion picture film.
It's startling fare, which requires perfect timing, especially when a girl on film passes a rose to a boy onstage, who in turn, hands it to another girl on film.
Three circular theaters uphold a N.Y. Fair tradition. In the Blue and Gold Rooms, audiences are viewing the same musical shows; then they move to a dazzling Red Room for science demonstrations.