SOURCE: News Colorfoto, New York Sunday News, April 12, 1964
"See you at the Fair!" says the vast screen above the Eastman Kodak building. This was the greeting motorists on the Long Island Express saw on the Kodak Picture Tower in the weeks before the Fair opened.

| | |
| --- | --- |
| | |
| | |
SOURCE: News Colorfoto by Edmund Peters and Richard Lewis, New York Sunday News, August 23, 1964
SUN-DAY AT THE FAIR
'TWAS A NICE BRIGHT DAY at the Fair, so our sun-worshiping lensmen found a lofty perch and started shooting film. Here's what they came up with in the Industrial Area (from top left): Better Living Center, Pepsi-Cola's Walt Disney fantasy, Eastman Kodak's world's largest outdoor foto colorprints and, edging into the International Area, American-Israel's wood-paneled pavilion and a Swiss Sky Ride terminus. And don't forget the Brass Rail "marshmallows."
SOURCE: EKTACHROME by James P. Blair © National Geographic Society, Volume 127 No. 4, April 1965
Lunar landscape roofs the Eastman Kodak Pavilion. Spires, mounds, and craters of an imaginary moonland create odd angles and shadows to challenge the visiting cameraman's artistry. World's largest outdoor color photographs -- 30 by 36 feet -- ring the tower.
---
SOURCE: Gary Holmes Collection
Workmen replace the giant photographs on Kodak's Picture Tower.
---
SOURCE: Eastman Kodak Graphic Arts Brochure
Industrial Area aerial view features the Kodak Pavilion in the foreground.
---
---
KODAK WORLD'S FAIR FLASH CAMERA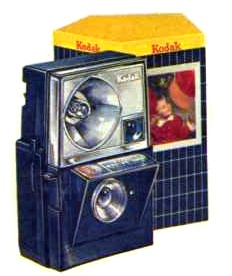 The Fair is full of fun -- and here's the smart, sturdy souvenir camera specially designed by Kodak to capture it all in pictures. New, compact and easy to use, the Kodak World's Fair Flash Camera takes color slides, color snapshots and black-and-white - indoors and out. No need to focus. No need to set lens opening. Just aim and shoot! built-in flash holder. And the box is a beautiful souvenir in itself! Less than $8.