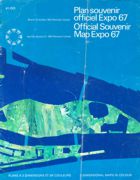 Display the Official Souvenir Maps of expo67. The maps are clickable!

Simply roll your cursor over any pavilion on a map and click it. You'll be taken to that pavilion's description in the Official Guidebook.

It's easy and a fun way to explore expo67.
expo67 was held on three sites on Montreal's St. Lawrence River. Use the links below to display the map for each site.