The 1964/1965 New York World's Fair continued to make news in 1965, but the news wasn't good. Magazines and newspapers devoted stories of the Exposition's financial difficulties along with constant criticism of the Fair and its management.
The year was 1965
A look at the news ...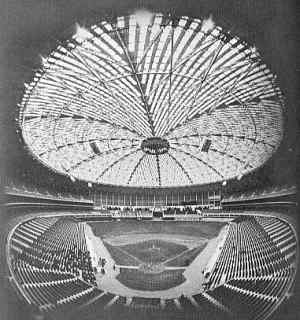 The Astrodome opens in Houston, United Nations International Children's Emergency Fund (UNICEF) is awarded the Nobel Peace Prize ... in January, President Johnson outlines plans for a "Great Society" in his second State of the Union message to Congress; 84 are killed when an Eastern Air Lines DC-7B plunges into the Atlantic 11 minutes after take-off from Kennedy International in New York ... in February, four are arrested in New York in a plot to destroy three US National Monuments -- Statue of Liberty, Liberty Bell, Washington Monument; Malcolm X is assassinated ... in March, 25,000 demonstrators, led by Dr. Martin Luther King, march from Selma to Montgomery, Alabama ... in April, the Palm Sunday tornadoes snake across Iowa, Illinois, Wisconsin, Indiana, Ohio and Michigan leaving 271 dead in their wake ... in May, The Subject was Roses and Fiddler on the Roof win the Tony Award for Best Play and Best Musical; first strikes on North Vietnamese air bases by US planes; Early Bird communications satellite relays live television between Europe and North America for the first time ... in June, Major Edward White takes a 20-minute Space Walk outside his Gemini 4 spacecraft; State Department says President Johnson has authorized US Commanders in Vietnam to commit American ground forces to combat if the South Vietnamese army requests their aid ... in July, citing "mounting aggression" by the Communists, President Johnson announces troop strength would be increased from 75,000 to 125,000 men in Vietnam; President Johnson signs the Medicare-Social Security bill; silver is eliminated in dimes and quarters ... in August, one of the most serious riots in US history breaks out in the Watts section of Los Angeles; Gemini 5 completes a 8-day 120-orbit mission; President Johnson signs the Voting Rights Act of 1965 ... in September, India and Pakistan go to war over Kashmir; President Johnson creates the National Foundation for the Arts; hurricane Betsy lashes Florida and Louisiana leaving 60 dead... in October,

Pope Paul VI arrives in New York to address the UN and visits the Vatican Pavilion at the New York World's Fair; attempt to dock two vehicles together in space is called off after a catastrophic failure of the Agena target rocket minutes after lift-off ... in November, a massive power blackout hits the northeast and leaves 30 million people in an 80,000 square mile area without power for up to 14 hours; a United Air Lines Boeing 727 bursts into flames after the gear collapse in a hard landing at Salt Lake City killing 41 of the 89 aboard; cruise liner Yarmouth Castle burns off the Bahamas leaving 84 dead, 464 rescued ... in December,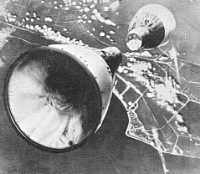 Gemini 6 and Gemini 7 successfully rendezvous in space; First Daughter Luci Johnson is engaged to Patrick Nugent.
What we saw at the movies ...
The Ipcress File ...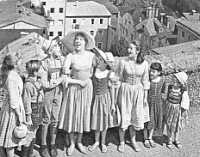 The Sound of Music ... The Greatest Story Ever Told ... Cat Ballou ... Von Ryann's Express ... The Agony and the Ecstasy ... Help! ... The Sandpiper ... How to Stuff a Wild Bikini ... That Darned Cat ... The Spy who Came in From the Cold ... Thunderball
What we watched on television ...
The Man from U.N.C.L.E. ... The Wild, Wild West ... Get Smart ... I Spy ... Honey West ... Green Acres ... Hogan's Heroes
What we listened to on our transistor radios ... Downtown - Petula Clark ... You've Lost that Lovin' Feelin' - Righteous Brothers ... This Diamond Ring - Gary Lewis & The Playboys ... My Girl - Temptations ... Stop! In the Name of Love - Supremes ... Mrs. Brown You've Got a Lovely Daughter - Herman's Hermits ... Help Me, Rhonda - Beach Boys ... I Can't Help Myself - Four Tops ... Mr. Tambourine Man - Byrds ... (I Can't Get No) Satisfaction - Rolling Stones ... I'm Henry VIII, I Am - Herman's Hermits ... I Got You Babe - Sonny & Cher ... Eve of Destruction - Barry McGuire ... Yesterday - The Beatles ... Get Off of My Cloud - Rolling Stones ... I Hear a Symphony - Supremes ... Turn! Turn! Turn! - Byrds ... Over and Over - Dave Clark Five ... Ticket to Ride - The Beatles ... I'm Telling You Now - Freddie & The Dreamers ... Game of Love - Wayne Fontana & The Mindbenders
We said Good Bye to ... Magician Harry Blackstone, 80, November 16 ... Motion Picture Actress Clara Bow, 60, September 27 ... British Statesman Sir Winston Churchill, 90, January 24 ...

Singer Nat King Cole, 45, February 15 ... Actress Dorothy Dandridge, 60, September 8 ... Poet T.S. Elliot, 76, January 4, British aviation pioneer Sir Geoffrey de Haviland, 82, May 21, exiled Egyptian monarch King Farouk, 45, March 18 ... former Supreme Court associate justice Felix Frankfurter, 82, February 22 ... Playwright Lorriane Hansberry, 34, January 12 ... Actress Judy Holliday, 42, June 7 ... NFL founder Curly Lambeau, 67, June 1 ... Playwright Somerset Maugham, 91, December 16 ... Actress Jeanette MacDonald, 57, January 14 ... Black Nationalist Leader Malcolm X, 39, February 21 ... Broadcaster Edward R. Murrow, 57, April 27 ... First woman Cabinet Officer Francis Perkins, 83, May 14 ... Beauty expert Helena Rubenstein, 94, April 1 ... Physician Albert Schweitzer, 90, September 4 ... Motion Picture Producer David O. Selznick, 63, June 22 ... Statesman Adlai Stevenson, 65, July 14