EXHIBIT

Festival of Gas

AUTHORIZED REPRESENTATIVE

Mr. Stanley B. Finch

Executive Secretary

Gas, Incorporated

60 East 42nd Street

New York 17, New York

MU 2-8743

PUBLIC RELATIONS AGENCY

Mr. James Beall

Director, Public Information

American Gas Association

605 Third Avenue

New York 16, New York

972-5500

CONTRACT SIGNED

February 28, 1961

LOCATION

Block 15; Lot 1

Industrial Area

AREA

79,290 sq. ft.

ARCHITECT AND DESIGNER

Walter Dorwin Teague Assocs.

415 Madison Avenue

New York 17, New York

MU 8-0100

RESTAURANT OPERATED BY

Restaurant Assocs., Inc.

CONTRACTOR

W. J. Barney Corporation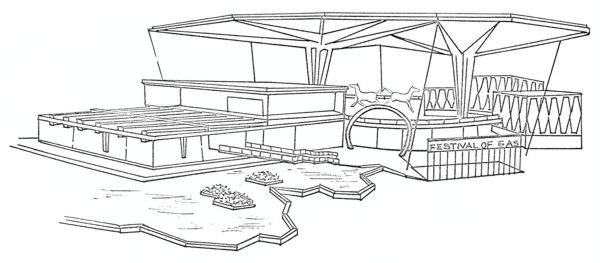 SOURCE: 1964 World's Fair Information Manual
FEATURES

The Festival of Gas Pavilion is a pure white structure sheltered by a giant white umbrella, in a setting of flowing streams and floating flower beds. The walls of the pavilion will be hanging glass permitting an unbroken view of the Fairgrounds.




Interior: The pavilion will combine the story of gas power with entertainment. Visitors will get their first preview of the exhibt from a gaily decorated carousel elevated in the center of the pavilion. As the carousel revolves slowly, recorded narration will point out special features of the pavilion, which can be visited after the four minute ride.




Among the special exhibits will be a three section Fun House of the Future. One feature of the Fun House will be the Kitchen of the Future where visitors will watch a virtually empty room turn into the kitchen of tomorrow, where appliances emerge from walls, floors, and ceiling as they are needed by the housewife.




Visitors will see a Tree of Gas Transmission and a Gove of Gas Production which graphically demonstrate the process involved in the discovery, production, transport and storage of gas. A giant, revolving ferris wheel will display the latest modern gas appliances.

Another major exhibit will be the Theatre of Food. Famous chefs from all over the world will demonstrate their specialties in the Theatre.




A 15 minute puppet show on film will be shown on three, five foot screens. Tom Tichenor is the designer of the puppets.




All these features will be in addition to the 250 seat gas air conditioned restaurant with transparent walls which will give diners the feeling that they are floating on one of the flower laden pools surrounding the Pavilion.
---
Festival of Gas Pavilion
Source: NY World's Fair Publication For Those Who Built the Fair