EXHIBIT

Ford Motor Company

AUTHORIZED REPRESENTATIVE

Mr. C. Gayle Warnock

Ford Motor Co.

477 Madison Ave.

New York 22, New York

888-6000

FAIR CONTACT

Mr. Guy Tozzoli

Port of New York Authority

CONTRACT SIGNED

May 22, 1961

DESIGNER

WED Enterprises

800 Sonora

Glendale, California

LOCATION

Block 49, Lot 1

Transportation Area

AREA

304,998 sq. ft.

ARCHITECT

Welton Becket Assocs.

300 Park Avenue

New York 22, New York

PL 1-1540

CONTRACTOR

Thompson-Starrett

ADMISSION

Free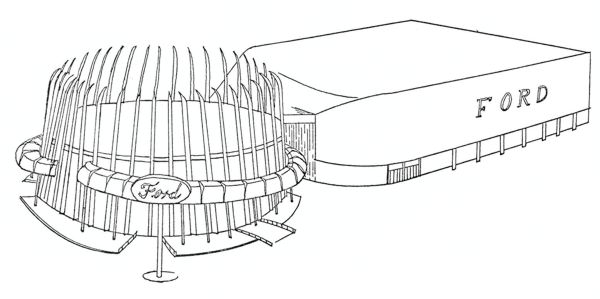 SOURCE: 1964 World's Fair Information Manual
FEATURES

Exterior: The Ford Wonder Rotunda features a glass enclosed circular structure 235 feet in diameter, 56 feet high and surrounded by 64 glittering columns 100 feet tall. Adjoining this main entrance is a flared rectangular show and exhibit building more than 500 feet in length and standing as high as a seven story building. It houses the major show and entertainment features created for Ford by Walt Disney and his staff at WED Enterprises.

At night the Rotunda becomes a glowing symbol. Each of the eight foot deep columns is bathed in brilliant incandescent light.




Interior: The Magic Skyway ride using Ford, Mercury, Falcon, Thunderbird, Comet and Lincoln Continental convertibles spiral around the rotunda in a transparent tunnel. The cars have no motors under the hoods as the ride is electric-powered with hundreds of hidden wheels pressed against a flat plate beneath the car. There is no need to steer since a spindle attached to the car tie-rod follows a guide rail in the track. No need either to touch the brake pedal, for the ride has its own air brake system and an automatic spacer that prevents cars from bunching up.




The cars then travel through "time tunnels" that surprise visitors with the illusion they are breaking through barriers of time and space.




The trip "Out of this world and back", features Walt Disney's animated three dimensional cavemen and prehistoric animals; they come to life through a combination of sound and electronic impulses. Visitors watch the prehistoric monsters enganged in mortal combat, while other primeval beasts roam the rugged terrain. At the same time, long-extinct creatures soar overhead. The air is alive with the sond of time remote and primitive.




The Magic Skyway ride continues through a second series of "time tunnels" to the City of Tomorrow. Visitors leave their cars in one of the structures of this futuristic city. Here they have an opportunity to view the Ford World's Fair collection of dream cars, as well as exhibits on auto styling, space exploration, new sources of power and a Disney animated "Product Parade".




The Ford Rotunda is completely air-conditioned. The mezzanine level includes a reception lounge for Ford guests, as well as offices for operating personnel.
---
Ford Motor Company
Source: NY World's Fair Publication For Those Who Produced the New York World's Fair 1964-1965