General Cigar Pavilion
SOURCE: Commercial Transparency by Photo Lab, Inc., Washington, DC
---
General Cigar Pavilion
SOURCE: online auction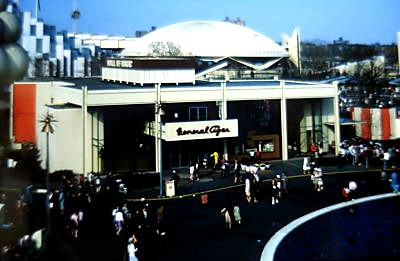 ---
GENERAL CIGAR HALL OF MAGIC OFFERS GIANT SMOKE RINGS, MAGIC AND SPORTS MOVIES TO THRONGS AT WORLD'S FAIR
One of the World's Fair's most popular exhibits - the General Cigar Hall of Magic - offers a continuous live magic show, thrilling sports action movies and other exhibits to the throngs attracted by its unusual landmark - machine lofting giant smoke rings high above the Fair. There is no admission charge. The magic show - created and narrated by television's renowned wizard Mark Wilson - plays three times an hour in an ultra-modern Magic theatre, and includes such classic thrillers as sawing a woman in half and levitation. The films of sports including boxing, sky diving and baseball were shot from overhead with a special camera and are projected onto a sunken screen to give a feeling of immediate participation.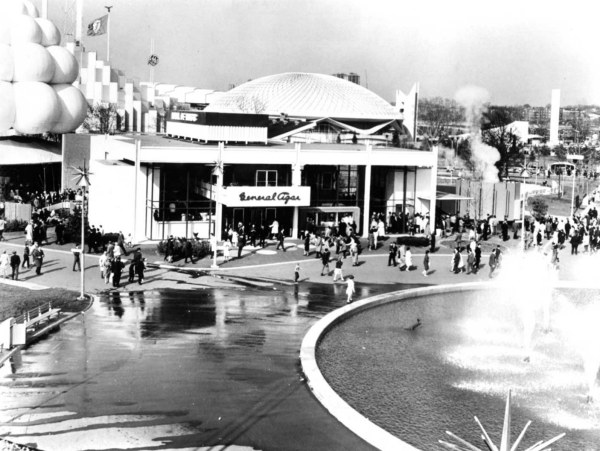 TIPARILLO BAND PAVILION PRESENTS ENTERTAINMENT FOR 1965
Scenes like this again will be a familiar and popular feature of the New York World's Fair as top visiting bands, choral groups, dance ensembles and other concert attractions from all over the U.S. and abroad perform at the Tiparillo Band Pavilion. The Mahanoy City, Pa. Area High School Band (below) played the Tiparillo Band Pavilion last September.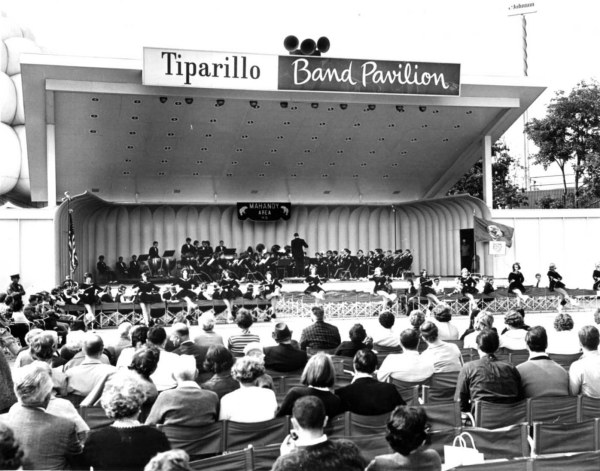 SOURCE: (Above & Below) Black & White Publicity Photographs, Arthur Cantor, Inc.
---
The smoke machine blows "puffs of smoke" (non-tobacco) outside the General Cigar Paviion.