Rapid Transit Perimeter Bus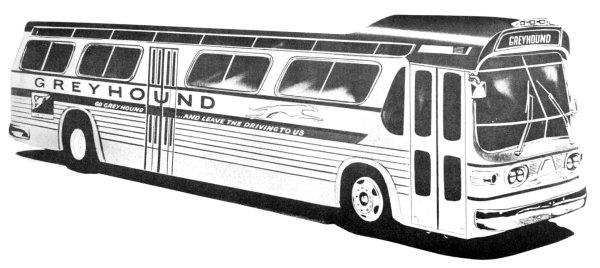 Over 300 new vehicles of 4 different kinds, all especially and uniquely designed for this Fair, will be operated in a wide variety of services, as briefly summarized below.
RAPID TRANSIT

BUS SERVICE:

This service, operated with new air-conditioned transit buses having air suspension and picture windows, will provide a quick method of moving between widely separated areas of the Fair.

The route is over the perimeter roadway that passes all of the 8 public admission gates to the grounds. Service is clockwise and counter clockwise, affording time-saving movement between the 35 stations at the gates and intermediate points.

These sheltered stations are equipped with directional data, maps of the grounds and money changing devices.
Service will be as frequent in both directions as traffic demands and the fare will be 25c with the passenger boarding at any station and alighting at any other on a continuous ride not to exceed the circumference of the grounds.
This is not a sightseeing service so no lecture is provided. About one half hour is required to circle the grounds on this service.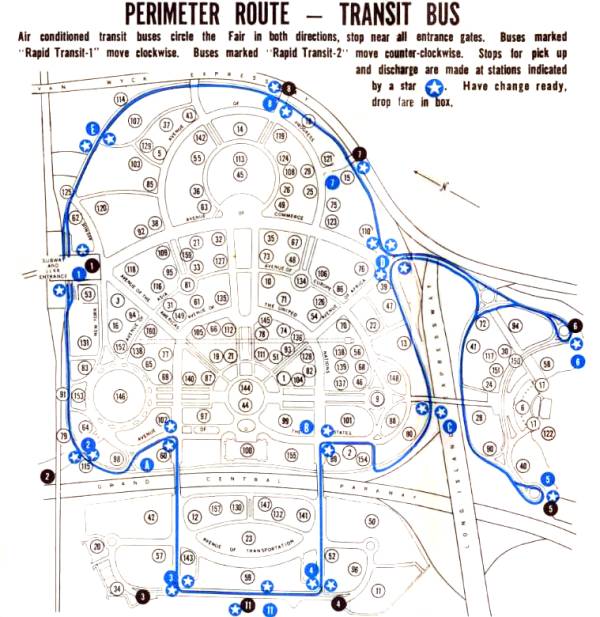 Artist's rendering of Rapid Transit Sheltered Station Located at Each of the 8 Admission Gates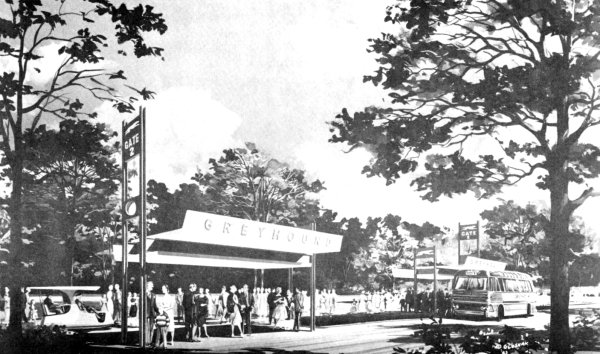 SIGHTSEEING

BUS SERVICE:

This is the Grand Tour of the grounds and truly a deluxe service, recommended as the Fair-goers' most logical introduction to this fantastic world event.

The finest and newest buses built, air-conditioned, glass roofed and equipped with rest room and upholstered reclining seats, will take the sightseer on a complete tour of the grounds. It is about one and a half hours in length and passes all of the major exhibits located on the 8 miles of roadway available to these buses. This is a lectured tour with a coordinated description of the sights to be seen and the highlights of exhibit content.
Fair-goers may board at stations adjacent to any one of the 8 entrance gates, enjoy the tour and depart upon return to the same station. Tickets may be purchased from roving salesmen at all points at a cost of $3.00 for adults and $1.50 for children under 12.
Every passenger is assured of a comfortable seat as no standing or crowding will be permitted. Departures will be as frequent from each station as the traffic demands.
SOURCE: Maps, Greyhound at the Fair Pamphlet, How to See the New York World's Fair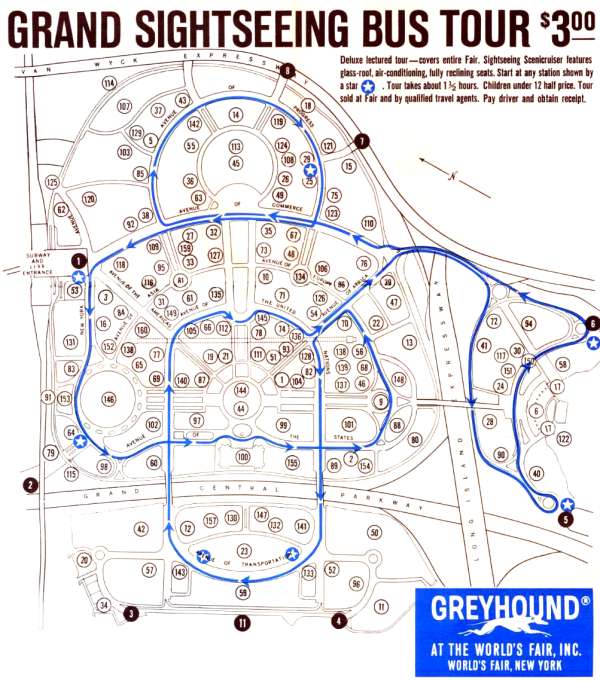 Sightseeing Bus
SOURCE: Greyhound Corporation, New York World's Fair Marketing Information Letter No. 2, September 13, 1963