FAIRS, by nature, are impermanent institutions (though the impressions they leave on their visitors may last a lifetime) and their buildings are quickly dismantled once the big show's over. There are exceptions, though, and one of them at our fair is the imposing Hall of Science. Built to last, it will be a permanent attraction in the city park that is scheduled to occupy the fairgrounds in the future.
The Hall of Science is designed to show kids, especially, the practical application of scientific techniques they've learned in school. The exhibits demonstrate in a stimulating way how the laws of science are applied by industry to mankind's future needs in such fields as biology, physics, chemistry, math, and environmental, space and behavioral sciences.
Looking like a giant cement carpet standing on its edge, the Hall of Science in the Transportation Area attracts its many visitors into a creviced entrance. The Atomic Energy Commission is top exhibitor inside building.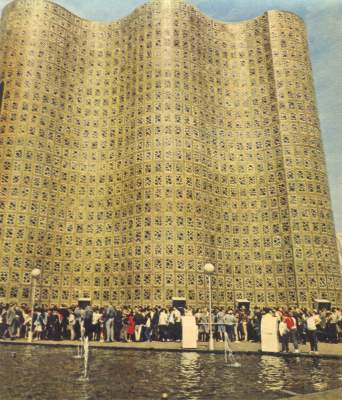 An upside down yellow space taxi approaches a permanently orbiting space lab in this simulated rendezvous in outer space of full-sized manned orbital vehicles. Staged by Martin-Marietta above Hall's cathedral-like main floor. It's a thriller.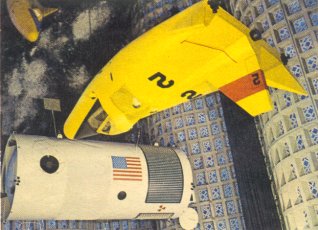 Source: News Colorfoto by Daniel Jacino (top)

Source: News Colorfoto by Edmund Peters and Richard Lewis (bottom)

Source: New York Sunday News - September 12, 1965