The description of this exhibit from the 1964 Official Guide Book
The description of this exhibit from the 1965 Official Guide Book
The location of this exhibit on the 1964 Official Souvenir Map

HOLLYWOOD
Behind a facsimile facade of Grauman's Chinese Theater, complete with hand and footprints of celebrities in the pavement, Hollywood displays mementos of its past and spotlights some of the glittering figures of the present. Sets from recent motion pictures are displayed, and there is a film museum of props and costumes from vintage classics. From time to time visiting stars and top recording artists sign autographs. The pavilion also offers visitors shops, a bar and a large restaurant.
* Admission: adults, $1.25; children, 50 cents.
ON LOCATION. The visitor can take a walk through exact replicas of the throne rooms from Cleopatra and The King and I, visit the street from West Side Story or see the main set from TV's Gunsmoke. Music from the film scores is played in the background.

MUSEUM PIECES. The motion picture museum is a showcase for filmland costumes, jewelry and props (including a small train used in The Greatest Show on Earth). A special section highlights the career of the late Cecil B. DeMille.

FOOD AND DRINK. There is a large bar and a self-service restaurant.

HOLLYWOOD U.S.A.
Behind a facsimile of Grauman's Chinese Theater, movie sets, props and costumes bring to life filmland's present and past.
Actual backgrounds used in well-known movies line a central mall, and film, TV and recording stars appear. There are also shops, three restaurants, a bar, and a discotheque for dancing.
ON LOCATION. Visitors can be photographed in exact replicas of sets from Cleopatra and South Pacific, walk through a street scene from West Side Story and watch a duel on the "Gunsmoke" set.

MUSEUM PIECES. A showcase of movie memorabilia contains lavish costumes, jewelry and props, famous film monsters, and a special section on the career of Cecil B. DeMille.

¶ Admission: adults, $1.00; children, 50 cents.
4.30.17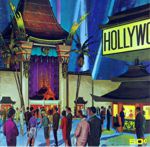 Lights! Camera! Action! Swing by the Hollywood U.S.A. pavilion and watch your favorite stars immortalize themselves with their hand and footprints in cement in front of the Fair's own Grauman's Chinese Theatre.