EXHIBIT

Hollywood - California

AUTHORIZED REPRESENTATIVE

Mr. Lee Savin, Vice President

George Murphy and Associates

Entertainment Industries, Inc.

9229 Sunset Boulevard

Hollywood 69, California

213 273-6282

FAIR CONTACT

Mr. Michael Pender

CONTRACT SIGNED

August 2, 1963

LOCATION

Block 38; Lot 1

State Area

AREA

75,375 sq. ft.

ARCHITECT

Mr. Randall Duell

P.O. Box 191

Arlington, Texas\

CONTRACTOR

Sawyer and Dolfinger

Port Washington, N. Y.

ADMISSION

Adults $1.00

Children $ .50

(under 12)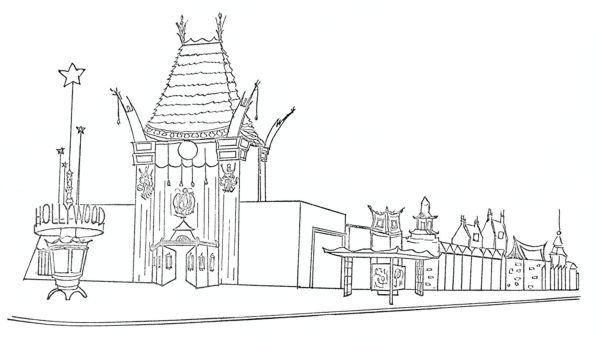 SOURCE: World's Fair Information Manual
FEATURES

The glamorous movie industry will be shown to Fair visitors at the Hollywood USA Pavilion. The visitor will enter the exhibit through a reproduction of the facade of Graumann's Chinese Theatre in Hollywood. The sidewalk will have hand and foot prints of the movie stars.

Inside, the visitor will view many of the sets used in recent films including "My Fair Lady", "Cleopatra", "West Side Story", "The Greatest Story Ever Told", etc. The many facets of moviemaking will be shown, such as wardrobe, make-up, lighting and film techniques. In the center there will be a museum of the mementos of the movie industry.

Live filming will take place in a small amphitheatre in the Pavilion. Hollywood personalities will make personal appearances in the exhibit.

Included in the exhibit will be a Sunkist citrus display and a restaurant operated by the A and W Root Beer Company.
---
Holywood U.S.A.
Source: NY World's Fair Publication For Those Who Built the Fair