The idea1 for "The House of Good Taste" is said to have originated with Lady Malcolm Douglas-Hamilton, a well-connected socialite, who mentioned it to Thomas Deegan when seated next to him at a dinner in Greenwich, Connecticut. She felt that a house should be exhibited that contained traditional furniture that could be bought anywhere in the country. Deegan (Moses' public relations man) invited Lady Hamilton to be in charge of the design, and gave her a two acre tract just inside the main entrance to the Fair. He also is credited with coining the name, "The House of Good Taste."
Hamilton put together the "American Institute of Approval," drawn from socially prominent advisors described as "deeply interested in good taste." When financial backers and decorators lobbied for the inclusion of more than just a traditional house, Lady Hamilton balked, saying "My whole concept had been a demonstration of middle-income, middle-of-the-road, traditional American good taste. Imitation modern can be pretentious, cheap looking, and in bad taste. The 'best' modern, or even just good 'modern', is extremely expensive and only for the very rich." 2
She was right of course. But in the end, The House of Good Taste became "a three-separate-home show case for products from construction materials to cars. Architecture will be traditional, transitional and modern. The homes will demonstrate that attractive home living is within reach of all Americans." 3
"Within reach of all Americans" appears to have been somewhat relative. Nevertheless, there was some stunning mid-20th century residential architecture and design on display here, in what the Official Guide describes as:
Three houses - traditional, contemporary and modern - fully furnished and provisioned down to liqueurs on the coffee table, ... on exhibition in this homemaker's center. The buildings are sponsored not by one exhibitor but by scores of building, decorating and housewares companies. Their aim is to provide visitors with a yardstick of home building and decorating standards.4
It was perhaps just this type of "multi-exhibitor" pavilion that led some critics to argue that the Fair was nothing more than a giant trade show in disguise. Indeed, not only was The House of Good Taste privately billed in the October 29, 1963 issue of Fair News as designed "to serve as showcase and marketing vehicle for new products in home equipment and accessories" but (to add insult to injury) ended up charging 50 cents admission. (Other "multi-exhibitor" buildings included Transportation and Travel, the Better Living Center, and the Pavilion of American Interiors.) Far from detracting from the Fair however, these installations can be seen as providing insight into just how significant the efforts behind the giant corporations' pavilions really were.
Leaving aside questions of appropriate versus inappropriate self promotion, what exactly distinguished "traditional", "contemporary" and "modern" homes? The Official Guide described them as:
Traditional House. This house of white plastic clapboard, with terrace and swimming pool, is an adaptation of a rambling New England farmhouse. It has three bedrooms and displays such features as a party room with indoor barbecue fireplace and kitchen with a sewing nook.

Contemporary House. Sliding-glass walls and a living room skylight make this a house of light and space. Furnishings are both antique and contemporary, there is a separate family room, and in the garage are a Finnish steam bath and dressing room. Most of the rooms open onto sundecks, and the grounds have no fewer than three pools, as well as a summer house.

Modern House. Edward Durell Stone's "inward looking" house was designed for the suburban lot, with the house enclosing the grounds to ensure privacy. A patio is in each corner, and a garden is in the center under a glass dome. The 36-foot-long living room is hung with modern American paintings on loan from museums, galleries and artists.5
What, then, was the difference between modern and contemporary architecture?
Historically, Modern architecture
"arose out of the rejection of revivals, classicism, eclecticism, and indeed all adaptations of past styles to the building types of industrializing late 19th- and 20th-century society. It also arose out of efforts to create architectural forms and styles that would utilize and reflect the newly available building technologies of structural iron and steel, reinforced concrete, and glass. Until the spread of Postmodernism, modern architecture also implied the rejection of the applied ornament and decoration characteristic of premodern Western buildings. The thrust of modern architecture has been a rigorous concentration on buildings whose rhythmical arrangement of masses and shapes states a geometric theme in light and shade." 6
Contemporary homes, on the other hand, were those recognizable
"by their odd-sized and often tall windows, their lack of ornamentation, and their unusual mixtures of wall materials--stone, brick, and wood, for instance. Architects designed Contemporary-style homes (in the Modern family) between 1950 and 1970, and created two versions: the flat-roof and gabled types. The latter is often characterized by exposed beams. Both breeds tend to be one-story tall and were designed to incorporate the surrounding landscape into their overall look." 7
Each of the three Houses of Good Taste appeared to be an outstanding example of its style. Given the architects involved, it could hardly have turned out otherwise.
SOURCE: Brochure, Black & Decker Power Tools Shown at the HGT
---

MODERN HOUSE

By Edward D. Stone

This model home achieves complete privacy even when located in the most densely populated suburb. A family area with a unique 22' glass dome is the center of this design.
---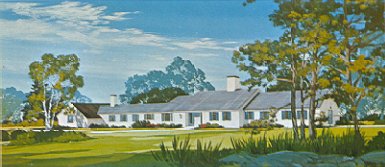 TRADITIONAL HOUSE

By Royal Barry Wills Assoc.

Offering a traditional Early American appearance, the house boasts an attractive floor plan with well designed rooms.
---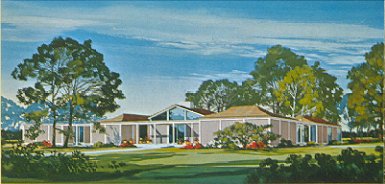 CONTEMPORARY HOUSE

By Jack Pickens Coble

Here the indoors and outdoors are brought together for informal living. The unusual roof lines and grouping of living areas attract much attention.
---
SOURCES (unless otherwise indicated):

1Remembering the Future, chapter 4,"The 'Laisez-Fair', Good Taste, and Money trees: Architecture at the Fair",by Rosemarie Haag Bletter, pp.128-29, Rizzoli International Publications Inc., New York, 1989.
2 Ibid, p.129.
3NY World's Fair Progress Report Number 8, April 22, 1963, p. 24.
4Official Guide New York World's Fair 1964/1965, 1964 edition, p.64, Time Incorporated, New York.
5Ibid.
6 "Modern Art." Encyclopædia Britannica. 2004. Encyclopædia Britannica Premium Service. 2 Sept. 2004 <http://www.britannica.com/eb/article?eu=54471>.
7 www.realtor.org