SOURCE: Pavilion Guide, The House of Good Taste
---

Your

Guide

to

the House

of Good

Taste
---
at the

New York

World's Fair

1964-1965
All Building Construction by D. Fortunata, Inc.

Your Guide

to the House

of

Good Taste

This booklet has been specifically designed for your

own use to -

Tell you all about the three beautiful homes you

are about to see and to identify all of the outstanding

products that make them possible.

Serve as a shopping guide for those products that

interest you when you return home.

Our hostesses will be glad to answer your questions.

Facilities for obtaining additional information on

products exhibited are available near the exit

of the Hidden Assets Pavilion.
A distinguished

and beautiful exhibit

New York World's Fair

1964-1965

How America lives is a chief source of our national pride. The ever increasing concern of the American people with "the best" in architecture, furniture, appliances and all the appurtenances of good American living presents an opportunity to put our American "best foot forward" to the world at the New York World's Fair. This has been our goal in creating The House of Good Taste.

This exhibit is a group of three American houses, complete in every furnishing, construction and design detail, embodying the highest standards of beauty and comfort consistent with practical budgets. To suit a cross-section of tastes, they have been designed and furnished in three different styles and atmospheres.

Three outstanding American architects have designed these three homes which will be a credit to our nation. Edward Durell Stone has created the modern house in his own famous style; Merton S. Barrows of Royal Barry Wills Associates has designed the traditional house; and Jack Pickens Coble has designed the contemporary house particularly aimed at the needs of the young married family.

The House of Good Taste Exhibit presents three lovely private homes, with every aspect down to the last carefully considered detail as perfect as our distinguished architects and interior designers can make them. To achieve these ideal homes and to produce an atmosphere of unusual charm to each visitor, The House of Good Taste has drawn on the time, imagination and gifts of an exceptionally distinguished nationwide group of architects, interior designers, landscape architects, museum curators, artists and experts in many fields, who have pooled their efforts on behalf of The House of Good Taste to make it an exhibit of great beauty and significance.

We feel that each of these three houses is a "living house" illustrating the wonderful combination of tradition, fine architecture and furnishings, coupled with the achievements of modern science and industry in appliances, construction and equipment that make the American home famous around the world.
Modern House

Designed by

Edward Durell Stone AIA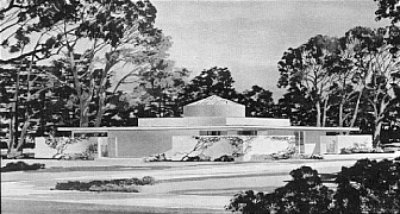 This modern house is designed in a formal plan with all rooms grouped around a central landscaped atrium. The house is fundamentally inward looking and is best suited to a densely populated suburban area, which more often than not provides no other view than the sides and rear of adjacent houses. Here the corner courtyards provide their own intimate view with a completely private and controlled environment, planted and furnished to the owner's taste.
The plan is based on a great cruciform room brightly skylit from above by a glass dome 22 feet in diameter. This multi-use area also forms the circulation space traditionally relegated to the dark, narrow space-consuming corridors found in more conventional house plans. This room is not intended to be the ordinary "family room" which is, more often than not, a cluttered descendent of the rumpus room. Here it is upgraded to a beautiful, architecturally dramatic space, one which expresses the individuality and character of the family as a group. It my serve as an elegant music room, or as a gallery for paintings and sculpture. Thus it becomes the very center of the family's existence and a space that symbolizes their ideals and aspirations.
Traditional House

Designed by

Merton S. Barrows AIA

Royal Barry Wills Associates, Inc.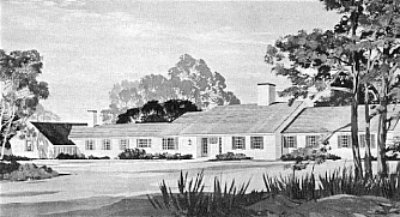 This house has been designed to meet the needs and aspirations of the average family which comprises the larger segment of the home building public. Although traditionally conceived, we feel that it satisfies the ever increasing desire of people to open certain living areas to the outdoors, making for flexible and gracious living in all seasons of the year. Above all, it has the warmth and charm in all areas so necessary to make a house a living expression of our way of life.
The plan is arranged with the living, dining and family rooms grouped around the kitchen, all opening directly onto a living terrace and swimming pool area through sliding glass panels. The bedrooms are separated from the living area and are accessible without passing through any other room, thus affording privacy and quiet from the center of activity. The family room is placed on one side of the kitchen with easy access to the refrigerator by the young fry without disturbing the parents who may be entertaining in the living room.
The interiors are simple yet varied in design and texture. New and interesting wood paneled walls have been blended with old timber trusses and a large fireplace in the family room. Other combinations of wood paneled walls and applied moldings are seen in the living room and study in a happy marriage of traditional forms and modern materials.
In keeping with the original theme of this exhibit of The House of Good Taste, "conceived to demonstrate the highest standards of taste and utility in American products," we hope that a very large segment of those visiting the Fair will be rewarded and satisfied with what they see.

Contemporary House

Designed by

Jack Pickens Coble, AIA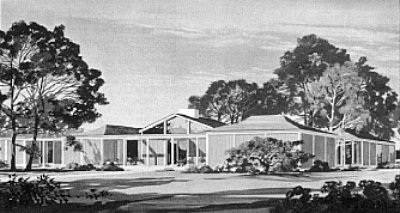 This house has been designed as a "Private Compound for Contemporary Living". Flanking the four corners of its dominant central pavilion, the areas of activity are architecturally expressed in mass and placement. It is a twentieth century adaptation of the concept of a communal compound common to an earlier age. It provides a private self-sufficient home, sheltered from the distractions and intrusions of the surrounding environment. The exposed perimeter walls admit light and air, to the exclusions of undesirable noise and confusion of the surroundings. Yet, the inside of the house has freedom and expansiveness, with large glass areas forming much of the interior perimeter walls. This open communication between inside and outside areas of activity prevents any sense of confinement, and enjoyment of the out-of-doors becomes all the more exhilarating because it is enclosed and secluded. The effective inter-relation of interior and exterior space is further enhanced by the provocative use of water and spanning bridges. The result of this design is to give an inner openness and outer protectiveness which permit the admirable idea of the compound to serve private dwelling. This house surrounds the out-doors; it provides an opportunity for the activities and interests of the family to be where they rightly belong -- in the home.

For this exciting modern home we have chosen contemporary furniture of simple direct design - large comfortable chairs and sofas. Beautiful fabrics lend a luxurious note, and all accessories are designed by living artisans. Since the huge central atrium with its dramatic planting of trees and shrubs is the focal point of the house, we have repeated tones of green in the fabrics and rugs. Light filters down from the dome above, and brilliant flower tones key the accent colors. Everyone should love to live in this exciting house.

Sarah Hunter Kelly

Esther Willcox

The interior design of this traditional house expresses a return to charm and livability. We believe that the individuals living in a house are of much greater importance than the surrounding background. Accordingly we have chosen a subdued monotone color scheme, subordinating the basic decor to its occupants. Accessories in the house provide a lived-in look., as though they have been acquired over a period of years. Each room is designed to fulfill the individual requirements of each ember of the family, providing areas of their entertaining as well as their privacy.

Ellen Lehman McCluskey, FAID

Everett Brown, FAID

C. Eugene Stephenson, FAID

Our design concept has been concentrated on creating a tangible reflection of the finest ideals and aspirations inherent in our American culture. Easily maintained for easy comfortable living, this house provides a background of gracious and worth-while home living where each member can enjoy the advantages of family life without sacrificing the individual's need for privacy. By providing an abundance of space for books, music, art, hobbies and entertainment, as well as space for quiet meditation, the family who lives here is invited to express its varying ways of enjoying life.

Dede Draper, NSID

Dora Brahms, NSID

Michael Greer, NSID

Arturo Pini di San Miniato, NSID
Hidden Assets

Building
The Hidden Assets Pavilion has been designed to provide you with information on the products you may not see, but that are important integral parts of every home, as well as in each of the three Houses of Good Taste. We hope you will examine these exhibits carefully, for many of these products represent the newest developments in construction, design and manufacturing. you will find exhibits by the following manufacturers:
Alexander Smith Carpets

...New York, N.Y

Arcadia Architectural Products

Northrop Architectural Systems

...Los Angeles, Calif.

Arrow-Hart & Hegeman Electric Co.

...Hartford, Conn.

Bird & Son, Inc.

...East Walpole, Mass.

Chadbourn Gotham, Inc.

...New York, N.Y.

Delco Appliance Division

General Motors Corporation

...Rochester, N.Y.

Georgia Pacific Corporation

...Portland, Oregon

B.F. Goodrich Chemical Co.

...Cleveland, Ohio

Gregg & Son, Inc.

...Nashua, New Hampshire

Honeywell Company

...Minneapolis, Minn.

Independent Lock Company

...Fitchburg, Mass.

I-T-E Circuit Breaker Company

...Philadelphia, Pa.

Kwikset Division

The American Hardware Corp.

...Anaheim, Calif.

Lennox Industries

...Marshalltown, Iowa

Lindsay Company

...St. Paul, Minn.

P.R. Mallory & Co. Inc.

...Indianapolis, Ind.

National Gypsm Company

...Buffalo, N.Y.

Olin Mathieson Chemical Corporation

...New York, N.Y.

Overhead Door Corporation

...Hatford City, Indiana

Owens-Corning Fiberglas Corporation

...Toledo, Ohio

Portland Cement Association

...Chicago, Ill.

Powers Regulator Co.

...Skokie, Ill.

The Stanley Works

Stanley Hardware Division

...New Britain, Conn.

The Yale & Towne Manufacturing Co.

...White Plains, N.Y.

Telsco Industries

...Dallas, Texas

Weyerhauser company

...Tacoma, Wash.
The Information Center near the exit of the Hidden Assets Pavilion will provide additional information on any specific product that interests you. If you fill out a request card this information will be mailed direct to you by the exhibitor.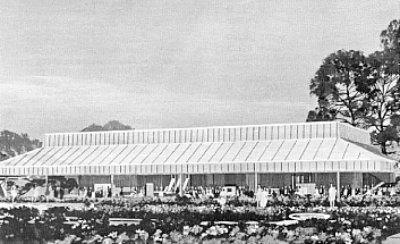 webmaster's note... Were it not for Bradd Schiffman, nywf64.com would have half the features on-line that it currently has! Bradd's tireless efforts have produced many an excellent presentation on the exhibits of the Fair. His detailing of The House of Good Taste exhibit is wonderful. Thank You, Bradd, for a great job and for bringing an important yet little known exhibit into the limelight!
Bill Young

February 18, 2005