EXHIBIT

IBM Exhibit

AUTHORIZED REPRESENTATIVE

Mr. Edward A. Kelleher, Manager

World's Fair Department

International Business Machines Corp.

590 Madison Avenue

New York 22 N.Y.

PL 3-1900

CONTRACT SIGNED

February 28, 1961

LOCATION

Block 9, Lot 9

Industrial Area

AREA

54,038 sq. ft.

ARCHITECT

Eero Saarinen & Assocs.

20 Davis Street

Hamden, Conn.

203 SP 7-07251

CONTRACTOR

Gilbane Building Co.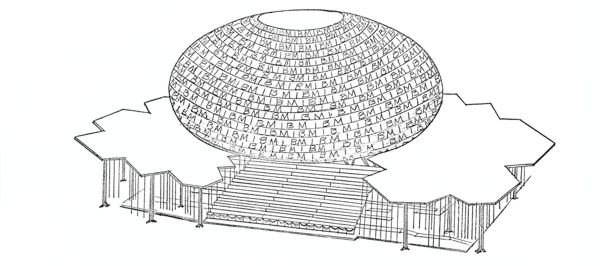 SOURCE: 1964 World's Fair Information Manual
FEATURES

The IBM pavilion will tell the story of modern information handling devices in an interesting, informative and educational manner. The pavilion will have the effect of a covered garden, with all exhibits in the open beneath a grove of 45 man-made steel trees. They will support a roof of translucent, colored plastic. The pavilion is divided into six parts.

The "Information Machine": A 90 foot ovoid theatre will be the main attraction. It will consist of nine screens used in various combinations to show how computer systems have evolved from the simplest propositions to those including a multitude of factors. Visitors will view the show by seating themselves in a grandstand or a "people wall", which will then be raised 53 feet by hydraulic machinery to the interior of the egg-shaped theatre. Narration will be in English but headsets will be provided so that foreign visitors will be able to hear simultaneous translations in German, Spanish, Italian and Japanese.




Pentagon Theatres: Supporting the main theatre will be a group of little theatres where mechanical, puppet-like devices will be sued to explain such subjects as speed, miniaturization, computer logic and information handling systems. The object will be to give a simple explanation of how data processing systems work.




Computer Court: A large-scale IBM data processing system will be used to demonstrate capability of solving such problems as traffic control, information retrieval and language translation.




Probability Court: A collection of devices and graphics will be located throughout the pavilion. The object will be to demonstrate concepts such as probability theory and its relation to the physical world.




Scholar's Walk: A collection of graphics assembled during research for the pavilion which illustrates the history and development of computer technology. The object will be to provide information on how modern systems evolved.




Administration Building: Along the rear wall of the pavilion will be the administration building, which will house personnel, supplies, maintenance equipment and offices.




There will be a VIP lounge.
---
IBM Pavilion
Source: NY World's Fair Publication For Those Who Produced the New York World's Fair 1964-1965