The centerpiece of the pavilion was, of course, Disney's Audio-Animatronic Abraham Lincoln who brought America's 16th President to life in the show called "Great Moments With Mr. Lincoln."
Source: © The Walt Disney Company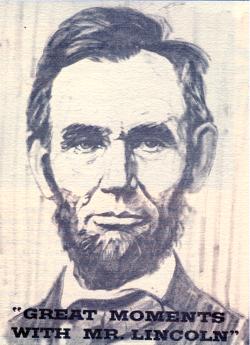 As early as 1956, Walt Disney had begun toying with the idea of creating an American history show for Disneyland.* Called "One Nation Under God," this show would have featured a 5-screen wrap around presentation with artwork and narration, culminating in a Hall of Presidents in which all of America's presidents would be featured in some way, but the highlight of which would be Abraham Lincoln.
By April, 1962, when New York World's Fair President Robert Moses visited the Disney studios for an update on the Ford and General Electric Disney presentations for the Fair, the development of the Lincoln figure for "One Nation Under God" had progressed to the point that an Audio-Animatronic Lincoln prototype could rise from his chair and shake Moses' hand. The World's Fair President was so impressed by this demonstration that he was adamant that "One Nation Under God" be presented at the Fair. He was soon given Disney's blessings to try to find a sponsor for the show, despite Disney's misgivings that the technology wasn't completely developed enough to have the show completed in time for the Fair's opening in 1964.
Moses turned his considerable persuasive power on the United States government to sponsor "One Nation Under God" as the main component of the Federal pavilion. The cost of the show would have amounted to only approximately 20% of the Federal budget for participation in the Fair. Although Moses spent the better part of 1962 and early 1963 trying to sell various Federal officials on the merits of the show, he was unsuccessful in getting the Department of Commerce World's Fair Commission to sponsor it as their main exhibit.
With time running out, Disney and Moses agreed to scale back the exhibit to a one-figure show, a President Lincoln show. The Coca-Cola company was given a demonstration of the Lincoln figure in hopes that they might sponsor him at the Fair. However Coca-Cola also declined.
The story of how "Great Moments With Mr. Lincoln" came to be the centerpiece of the Illinois Pavilion will be covered in-full later on in this Feature. But now, without further adieu, nywf64.com invites you to visit Illinois, "Land of Lincoln" at the New York World's Fair...