| | | | |
| --- | --- | --- | --- |
| | THE CONSTITUTION OF JAPAN | We, the Japanese people, desire peace for all time and are deeply conscious of the high ideals controlling human relationships, and we have determined to preserve our security and existence, trusting in the justice and faith of the peace-loving peoples of the world. | We desire to occupy an honored place in an international society striving for the preservation of peace, and the banishment of tyranny and slavery, oppression and intolerance for all time from the earth. We recognize that all peoples of the world have the right to live in peace, free from fear and want.. |
A.

FROM FEUDALISM TO THE EDGE OF SPACE

In one, short, revolutionary century Japan has transformed itself from a secluded, feudal, agrarian country into a modern democracy. The "opening" of Japan in 1853 by Commodore Matthew Perry ended 250 years of enforced seclusion -- and peace. Modern reforms followed quickly: the military regime and the privileged warrior class were abolished; the monarchy was restored under the enlightened Emperor Meiji; a beginning was made in representative government. By the turn of the century Japan had joined the industrial world.

B.

ROCKETS

Japan has conducted scientific research with solid-fuel rockets since 1955. All launchings are non-military and are supported by private enterprise working in cooperation with civilian scientific institutions. The Lambda L-2 rocket, developed last year, weighs 6.3 tons and has a maximum altitude of 300 miles. Its purpose is to make observations of temperature, wind conditions, cosmic rays and geomagnetic fields in the ionosphere.

C.

THE HIGH SPEED CAMERA

The camera has several inner "cameras" stationed on the circumference of a circle. At the center of the circle is a mirror which rotates. The mirror forms an image of the subject and rotates so that cameras can photograph it. With the MLD-3, whose mirror is driven by an air turbine, one million frames per second can be taken. Exacting scientific and industrial research is possible with this amazing camera.

D.

TOKYO

The Ginza shopping area
E.

CITY PLANNING

Japan builds 300,000 new living units each year in the congested cities. The government supports and finances construction and redevelopment. By 1970 there will be a dwelling unit available for every family. A vast highway construction program is underway and a number of toll roads now link the major cities. Plans call for resettling, some government offices, universities and factories in the country.

F.

OLYMPICS

Japan is the first Asian country to host the Olympic Games. Tokyo has been building toward the Olympics for four years -- roads, subways, monorail line, a new airport terminal, sports facilities and hotels. More than one million people, 35,000 of them from overseas, are expected in Tokyo for the Olympics.

G.

ELECTRON MICROSCOPE

| | |
| --- | --- |
| Polystyren Latex | x6,000 |
| Surface of Silicon Steel | x7,500 |
| Collagen Fibers | x25,000 |
| Cleavage Steps on Rocksalt Decorated with Gold | x6,000 |

.

H.

ELECTRIC POWER

Japan has doubled its electric power production during the past several years and now ranks fourth in the world. Expanding industrial demand still outstrips supply and vast electrification programs are underway. Japanese heavy electrical equipment now powers important projects throughout the world.
I.

IRON AND STEEL

Japan is one of the world's four largest producers of iron and steel. Poor in raw materials but rich in technological know-how, Japan must import all of its Iron ore, half of its coking coal and one-third of its scrap iron to feed its modern steelmaking facilities. Japan is the major exporter of finished steel to Southeast Asia.

J.

OIL REFINING

Japan and the United States lead the rest of the world in oil refining. But unlike America, Japan must import almost all of its crude petroleum. Japanese oil refineries are rapidly expanding to catch up with industrial requirements which have more than doubled in the past decade.

K.

TEXTILES

Japan is the loom of Asia. It is the world's biggest producer of cotton cloth and staple fiber and ranks second in woolen fabrics and synthetic fibers. Vinylon was invented in Japan in 1939 and its production techniques have been exported to America, Germany, France and China. Japanese scientists are now developing a way to produce nylon by photosynthesis.

L.

MACHINE TOOLS

Japan's machine tool industry has ridden the crest of the country's post-war economic "miracle". Large-scale investment in modern industrial plant equipment brings big backlogs of order to machine toolmakers for automated and computerized systems.
M.

TRANSPORTATION

Japan's railroads are the busiest and the fastest in the world. Tokyo-Osaka superexpresses travel at 150 m.p.h. Congested Japan has put space-saving monorails into regular commercial service. The country has a growing network of superhighways. Three cities -- Tokyo, Osaka and Nagoya -- have subways. Japan plans to build its own medium-range passenger aircraft.

N.

SHIPBUILDING

Japan is the world's leading shipbuilding nation, accounting for more than 18 per cent of the world's gross tonnage. Last year, Japan's shipbuilding started a record 772,35 tons and completed a record 837,117 tons. Japan's automated supertankers have brought a backlog of orders for the past several years.

O.

ELECTRONICS

Japan's special talent for highly skilled manual labor has contributed to the growth of its electronics industry where output has increased 1,000 per cent in the past decade. Transistors, which must be assembled by hand, are produced at the rate of more than 230 million a year, second only to the United States. Japanese research scientists have developed semiconductors, parametrons and diodes for use in computers.

.

P.

COMMUNICATIONS

Japan will be linked directly to the United States this summer via an underwater telephone cable. Television broadcasts relayed by U.S. satellites come in sharp and clear. Japan ranks second in the world in number of radio and television antenna and all-transistorized TV receivers are recognized as pioneering achievements.
EXHIBITORS' LIST OF NO. 2 BLDG.

FOR THE NEW YORK WORLD'S FAIR 1964-1965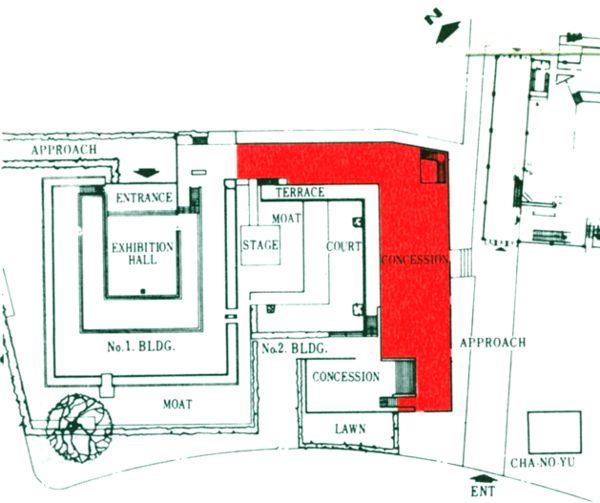 ALL JAPAN COTTON SPINNERS' ASSOCIATION.
AMERICAN HONDA MOTOR CO., INC.
ASAHI GLASS COMPANY, LIMITED.
HITACHI, LTD.
IKENOBO ART OF FLOWER ARRANGEMENT.
JAPAN IRON & STEEL EXPORTERS' ASSOCIATION.
KOHKOKU CHEMICAL IND. CO., LTD.
MITSUBISHI ELECTRIC CORPORATION
MATSUSHITA ELECTRIC IND. CO., LTD.
NIPPON ELECTRIC CO., LTD.
NIPPON IRYO CO., LTD.
NIPPON KOGAKU K.K.
NISSAN MOTOR CORPORATION.
NOZAKI ASSOCIATES, INC.
RICCAR SEWING MACHINE CO., LTD.
SANYO ELECTRIC CO., LTD.
SEIKO TIME CORPORATION.
TEIKOKU DEMPA CO., LTD.
THE JAPAN BEARING INDUSTRIAL ASSOCIATION.
THE JAPAN SILK ASSOCIATION, INC.
TOKYO EXPRESS RAILWAY CO., LTD.
TOKYO SHIBAURA ELECTRIC CO., LTD.
TOYO RAYON COMPANY, LTD.
TOYOTA MOTOR CO., LTD.
VICTOR COMPANY OF JAPAN, LTD.
Source: Brochure, Pavilion Guide 1964

THE JAPAN PAVILION
Organized by
JAPAN EXTERNAL TRADE ORGANIZATION
Sponsored by
GOVERNMENT OF JAPAN
TOKYO METROPOLITAN GOVERNMENT
STAFF
ARCHITECT:

KUNIO MAEKAWA

ASSOCIATES

ASSOCIATE ARCHITECTS:

OPPENHEIMER, BRADY,

AND LEHRECKE

STRUCTURAL ENGINEER:

FUGAKU YOKOYAMA,

ASSOCIATES

MECHANICAL ENGINEERS:

MEYER, STRONG, AND

JONES

STONE SCULPTURE:
MASAYUKI NAGARE
STONE WORKS:

OKADA STONE WORKS

CO.

DISPLAY DESIGN:

__Art Director

__Designers




__Photographer

__Illustrator

__Photo Materials &

__Processing




YUSAKU KAMEKURA

TSUNEO SAKATA

IKKO TANAKA

YASUHIRO ISHIMOTO

HIROSHI MANABE

FUJI PHOTO FILM CO.,

LTD.

MUSIC:

__Composed by:

__Sound System:




TOSHIRO MAYUZUMI

SONY CORPORATION

WRITERS:

DANNIEL HANNON AND

EDWARD KLEIN

ADVISERS:

TOSHIO AIJIMA

YUICHIRO KOJIRO

GENKO UCHIDA

GENERAL CONTRACTOR:

WILLIAM L. CROW

CONSTRUCTION CO.

STATISTICS OF JAPAN
Land Area:

142,732 Square Miles

1/21 that of the United States of

America

Population:

88,374,000 as of January 1, 1964

7th in the World

Population Density:
674 persons per square mile
Foreign Trade (Millions of Dollars)

1960

1963

Export

4,055

5,452

Import

4,491

6,736

Index of Industrial Activity (Weighed by Added Values)

1960

1963

100

140.7

World Ranking
Industrial Production:

1960

1963

in 1962
Steel Vessel

1,807

21,800

1
(Thousands of Gross Tons)

(est)

Electric Energy Generated

111,490

154,102

4
(Millions of K.W.H.)
Crude Steel

22,138

31,501

3

(Thousands of Tons)
TV Receivers

3,577

4,876

2

(Number in Thousands)
Chemical Fibers

551,708

701,587

2

(Thousands of Tons)
Automobiles

482,256

1,283,486

5

(Cars, Trucks &Buses)
(Number of Vehicles)
Auto Cycles

1,494

1,928

1

(Number in Thousands)
Cameras

1,859

1,928

1

(Number in Thousands)
Microscopes

604

433

1

(Number in Thousands)