EXHIBIT

Johnson Wax

AUTHORIZED REPRESENTATIVE

Mr. Peter D. Crane

World's Fair Manager

__and

Mr. Robert L. Burgess

Operations Manager

Johnson Wax

P.O. Box 547

New York World's Fair

World's Fair, New York 11380

AR 1-7130

PUBLIC RELATIONS AGENCY

Miss Dorothy Day

Carl Byoir Associates

800 Second Avenue

New York, New York

YU 6-6100 Ext. 329 & 888-4026

FAIR CONTACT

Miss Phyllis Adams

CONTRACT SIGNED

December 29, 1961

LOCATION

Block 18; Lot 3

The Eisenhower Promenade

Industrial Area

AREA

33,206 sq. ft.

ARCHITECT

Lippincott & Marguiles, Inc.

430 Park Avenue

New York, New York 10022

MU 8-8370

CONTRACTOR

Turner Construction Company

ADMISSION

Free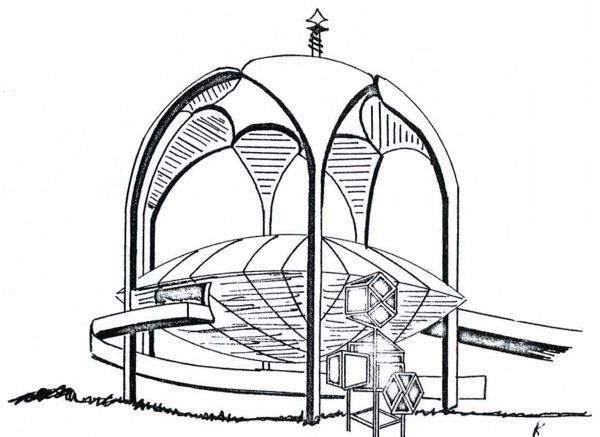 SOURCE: 1965 World's Fair Information Manual
FEATURES

The soaring superstructure of Johnson's Golden Rondelle Theatre is a graceful white form made up of six 90-foot columns topped by expansive petals that arch inward to form a partial canopy. A golden disc, 90 feet in diameter and containing an air-conditioned theatre, is suspended from the six columns 24 feet over a sunken reflecting pool.




In the Golden Rondelle Theatre, the popular film "To Be Alive" is shown. The film uses the "Tri-Arc 335" process of projection; incorporating 3 synchronized projectors and 3 wide screens arranged in a sweeping arc. The movie, filmed on location in a number of overseas countries and in many communities in the United States, portrays the joys and wonders of life, commmon to people the world over.




In the home care information center, questions on home care are answered by an electronic computer. Visitors receive free shoe shines from a battery of high-speed automatic shoe polishing machines. The children's "fun machine" is essentially a walk-through toy where yongsters find such things as cranks, levers and buttons that activate surprise mechanisms, noise-makers and other entertaining devices. The exhibit contains a VIP room for visiting executives.
---
Johnson Wax
Source: NY World's Fair Publication For Those Who Produced the New York World's Fair 1964-1965