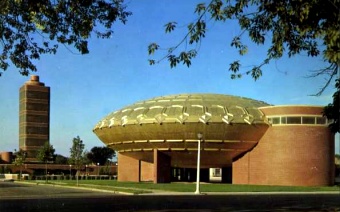 The Golden Rondelle still draws visitors fifty years after its dedication in July, 1967 at the corner of 14th and Franklin Streets on the southside of Racine, Wisconsin.
Racine, Wisconsin, home of the S.C. Johnson Wax company, is a medium sized city located approximately 1 hour north of Chicago and 1/2 hour south of Milwaukee on the western shores of Lake Michigan.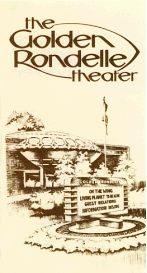 If you should be planning a trip to the Chicago/Milwaukee area and would like to take a trip to Racine to see the Golden Rondelle, be sure to phone ahead to make sure the theater is open. Follow the information on Johnson's website. You might also consider taking in the tour of Johnson's Frank Lloyd Wright designed Administrative Complex -- a beautiful and architecturally important work.
You may click this link to the Golden Rondelle to bring up the theater's Official Web Site. From there you will be able to view film schedules, get driving instructions (including a map) to the theater and read a brief synopsis of the building and its World's Fair history. Tour information for the Johnson Wax complex is also given.
---
Exterior View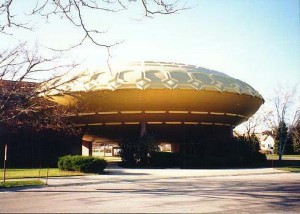 Exterior Close-up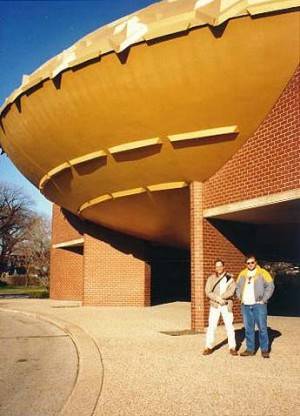 Beneath the Rondelle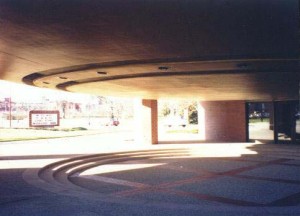 Rondelle Interior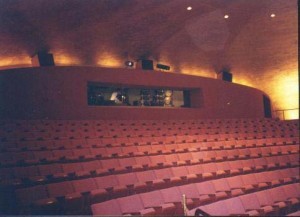 Projection Booth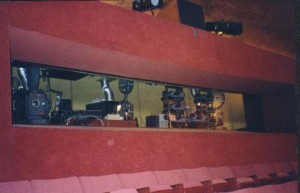 Tri-Arc Movie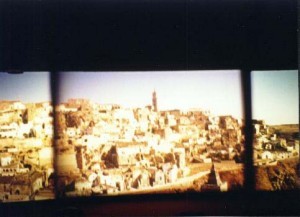 Photos Source: Presented Courtesy Bradd Schiffman Collection © Copyright 2002, Bradd Schiffman