Source: World's Fair Promotional Brochure
Colored light units were modular so that they could be assembled in many variations.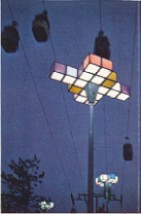 Source: Brochure Plexiglass at the Fair
STREET LIGHTING - 1400 of these units illuminate the walks and streets of the Fair. Each cube houses a fluorescent panel lamp and has a bottom panel of light-refracting patterned Plexiglass. The cubes' inside panels are also of Plexiglass acrylic plastic in a wide variety of translucent colors and arrangements.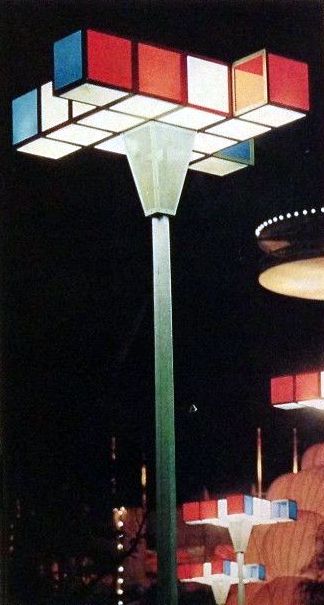 Source: © 2001 Bradd Schiffman
Interesting shot showing lights as they curve along a Fair walkway. The New York State Pavilion's observation towers are framed in this shot as well (Courtesy of Bradd Schiffman)