Source: © Wolfe Worldwide Films
The lighting cylinders on the poles of flags lining the bridge to the Transportation Area can easily be seen in this shot. (Courtesy Bradd Schiffman)
George Campbell © Copyright 2007 - All Rights Reserved
Closer detail of flag poles and light canisters. (Courtesy George Campbell)Source: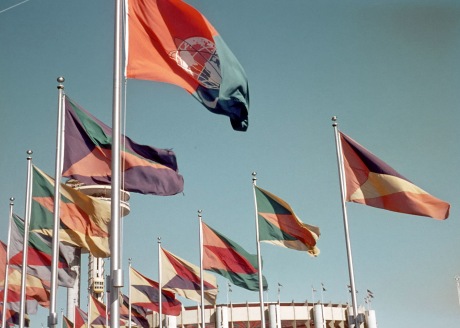 Source: News Colorfoto by Edmund Peters and Richard Lewis, New York Sunday News, September 6, 1964
NATIONS ON PARADE
THE STAND OF FOREIGN FLAGS gracing the Court of Nations is the big attention-getter here. Each country exhibiting at the Fair is represented. Beyond is a sizeable wedge of the International Area with its intriguing sights and sounds. In the center is the circular African pavilion and its needle-roofed rondevals; at right is Pakistan and behind it, a Brass Rail "marshmallow" snack bar. Seven distinctive pavilions in the background (reading clockwise from the right) are Sudan (only half of it shows); Morocco, Greece, Philippines, Lebanon, the United Arab Republic (Egypt) and Jordan.