EXHIBIT

Louisiana Pavilion

AUTHORIZED REPRESENTATIVES

Mr. Thomas J. Lupo

World-A-Fairs Corporation

990 Kenilworth Street

New Orleans 24, Louisiana

504 486-3773

FAIR CONTACT

Mr. Michael Pender

CONTRACT SIGNED

June 4, 1963

ADMISSION

Free

LOCATION

Block 42; Lot 3

State Area

AREA

123,078 sq. ft.

ARCHITECT

Saputo and Rowe

501 Jefferson Davis Parkway

New Orleans, Louisiana

504 HU 6-6501

CONTRACTOR

Kapilow - Missile Construction Co.

Mineola, New York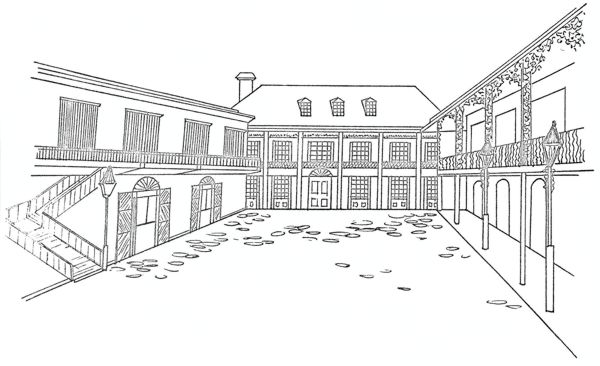 SOURCE: World's Fair Information Manual
FEATURES

The Louisiana Exhibit shows all of its products and extols all the virtues of its natural resources, its great wold ports, its tremendous petroleum products, its chemical complexes and its oyster and fishing beds.


The complex contains some ten "theatre restaurants" together with a Music Hall and an 18,000 square foot governmental and industrial pavilion, designed as a replica of the new Governor's mansion. The restaurants feature such varied famous southern foods as Hominy Grits, Creole Gumbo, Crepe Suzettes, Sugar Cane Sticks, and dishes showing many ways of preparing famous bayou and lake oysters prevalent in the State of Louisiana. While enjoying the Louisiana delicacies, one can hear music, and see the fashion shows, all without admission. Just to view the landscaped areas, reminiscent of the Evangeline country of this great state, is a soothing pleasure.


Throughout the exhibits including the restaurant areas, the visitor is introduced to the products, materials and items of the State's more than 200 varied industrial and marketing operations.


Along the promenades at the mythical intersection of Bourbon and Basin Streets, local Louisiana artists are seated drafting magnificent original portraits of the Fair visitors and scenes in oils, charcoals, sprays and pastels. In order to portray the flavor of the Mardi Gras season to a great segment of the visiting world, there are Carnival Balls in the Ole Opera House portion of the complex. The "Night in the Vieux Carre" has a carnival atmosphere, reminiscent of the Mardi Gras or Spring Fiesta in old New Orleans. There is a Carnival Parade down the Avenue of the Americas, finalizing itself at the mythical Bourbon-Basin Street complex, complete with marching bands, floats and throw-a-ways.




Also interspersed within the cultural and industrial area, the art and culture of the state is featured with all its picturesque beauty, blended in with the varied forms of architecture which makes up the history of Louisiana.
---
Louisiana Pavilion
Source: NY World's Fair Publication For Those Who Built the Fair