EXHIBIT

Maryland, State of

AUTHORIZED REPRESENTATIVES

Mr. C. Elmer Nolte, Jr., Chairman

Governor's Advisory Committee

Arcade Theatre Building

5436 Harford Road

Baltimore 14, Maryland

301 HA 6-4410

__and

Mr. Robert Filliettaz

Executive Director

301 West Preston Street

Baltimore, Maryland, 21201

301 539-1964

FAIR CONTACT

Mr. Michael Pender

CONTRACT SIGNED

June 11, 1962

ADMISSION

Free

LOCATION

Block 35A; Lot 5

State Area

AREA

35,951 sq. ft.

ARCHITECTS

Tatar and Kelly, Architects

__and

Van Fossen Schwab, Assoc. Architect

520 Light Street

Baltimore 2, Maryland

301 727-6684

DESIGNER

Carreiro Industrial Designers

1426 Spruce Street

Philadelphia 2, Pennsylvania

215 KI 5-2909

CONTRACTOR

Baltimore Contractors, Inc.

Baltimore, Maryland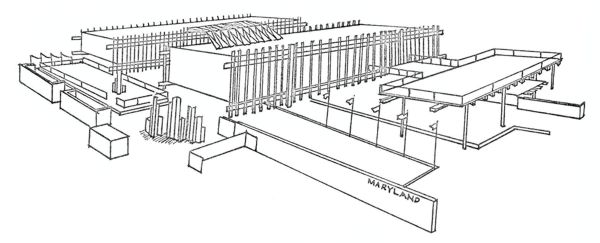 SOURCE: 1964 World's Fair Information Manual
FEATURES

The Maryland Pavilion, a two story structure, is designed to provide a citadel for a display of the state's past, its present, and its future. The pavilion incorporates a fisherman's wharf, a theatre, an exhibit area, a pool and a lounge and restaurant.




Fisherman's Wharf: To the right of the main entrance, a fisherman's wharf is built largely of the same creosoted wood planking used in Maryland wharf contruction. The wharf offers a selection of crab cakes, fried chicken, ham, clams and beverages for snacks and light eating.




Pool: On the left of the entry way is a rectangular shaped pool. The pool is extended underneath the entry walk and wharf just far enough to give the illusion that water runs completely beneath. To symbolize the Chesapeake Bay, the pool is lined at the bottom with oyster shells and objects associated with Maryland waterways.




Theatre: In the theatre, every six minutes, there is a dramatic motion picture presentation of the Battle of Fort McHenry during the War of 1812. The movie depicts the writing of the "Star Spangled Banner" by Francis Scott Key. Exits from the theatre take the audience into a brick concourse where the main exhibits are displayed.




Exhibit Areas: The introductory portion of the exhibit includes models of the "Ark" and "Dove", the two boats which carried 200 of Maryland's original settlers to its shores in 1634; the original document containing The Acts of Toleration; the original oil painting of General Washington resigning his commission of the State House, and a model of the 189 year old state capital building.




Among the other sections are: models and photographs of Chesapeake Bay and an aquaria depicting ships of the bay; engravings, photographs and original art work showing the facilities and advantage of the port, and a photographic trip through Maryland. The "Future" is a selected panorama of what the city of Baltimore will look like when the rebuilding, rerouting and renaissance becomes a reality. Near the end of the exhibit area, there is a concession stand where souvenirs of the state and momentos of its heritage are sold.




Restaurant and Lounge: Housed in twin rectangular units, the lounge and dining areas are bridged by an open crosswalk made of wood decking. A faceted awning between the units diffuses the Maryland colors found in the canopy into the exhibit areas below. The restaurant serves traditional Maryland dishes for which the state is noted. Menus, prepared to interest the uninitiated and delight the gourmand, feature seafood, poultry, ham, baked foods and desserts. An abstract painting of the Maryland flag executed in color plastic is exhibited in the restaurant.




Suspended above the bar is a wood grid ceiling containing stained glass set into the apertures. An opaque paneled wall running the length of the room behind the bar and lounge serves as a backdrop for a photographic exhibit.
---
State of Maryland
Source: NY World's Fair Publication For Those Who Produced the New York World's Fair 1964-1965