EXHIBIT

State of Missouri

AUTHORIZED REPRESENTATIVE

Mr. James Beisman

Exhibit Manager

Missouri World's Fair Commission

Missouri Pavilion

World's Fair, New York

AR 1-0440

FAIR CONTACT

Mr. Michael Pender

CONTRACT SIGNED

May 18, 1962

ADMISSION

Free

LOCATION

Block 41; Lot 1

State Area

AREA

55,998 sq. ft.

ARCHITECT

Kivett & Meyers

1016 Baltimore Avenue

Kansas City 5, Missouri

816 VI 2-8100

__and

Mr. Daniel Schwartzman

12 East 36th Street

New York, New York

LE 2-2375

DESIGNER

Displayers, Inc.

635 West 45th Street

New York 19, New York

PL 7-6500

CONTRACTOR

Robert Glenn, Inc.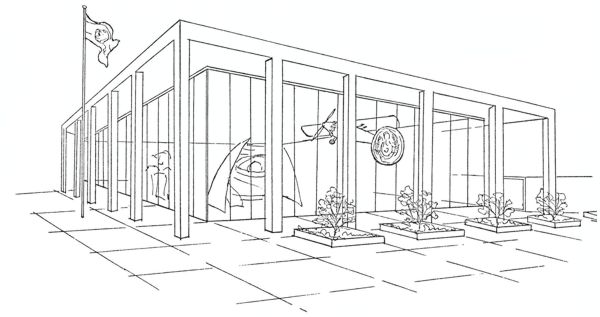 SOURCE: 1964 World's Fair Information Manual
FEATURES

Missouri's glass enclosed pavilion presents the theme "First in Air...First in Space". To emphasize its theme, one of the main exhibits is a replica of the Spirit of St. Louis, the plane in which Charles A. Lindbergh made his historic New York-Paris flight in May 1927. This replica hangs from the ceiling of the pavilion. On display outside the pavilion is a replica of the Mercury capsule Friendship 7. On it is a plaque engraved with the autographs of all of the astronauts. Both the Mercury and the Gemini were built by the McDonnell Aircraft Corporation.




A reproduction of the moon's surface, developed with technical advice from U.S. Aeronautical Chart Bureau experts, is incorporated in an exhibit sponsored by Universal Match Corporation. A 25-foot pylon supports a large "saucer" just above eye-level on which the moon's land contours, ranges, and craters have been accurately reporduced to scale and are identified. As a part of the exhibit, the latest in electrical vending, manufactured by National Vendors, Inc., a subsidiary of UMC, vends World's Fair souvenir match books with colorful Fair scenes. The match books are in ready-to-mail cartons to send to relatives and friends. They also display the new UMC coin and paper currency changer for the convenience of visitors, and two of the building's entrances have UMC American Air Curtains. This unique device substitutes a curtain of air in place of conventional doors, expediting visitor traffic, eliminating door accidents and preserving complete temperature control within the building.




There are also mementos of famous Missourians including author Mark Twain, poet Eugene Field and artists George Caleb Bingham and Thomas Hart Benton. There is a display sponsored by major private electric utilities depicting the growth of power facilities in Missouri. Separate exhibits depicting the industrial development and natural resources of the state, the city of St. Louis and Kansas City, underscore Missouri's outstanding highway system, parks, wild life and higher education.
---
Pavilion of Missouri
Source: NY World's Fair Publication For Those Who Built the Fair