EXHIBIT

Montana, State of

AUTHORIZED REPRESENTATIVE

Mr. Ott Tschache, Director

Montana World's Fair Exhibit

P.O. Box 1964

Bozeman, Montana

406 586-9492

FAIR CONTACT

Mr. Michael Pender

CONTRACT SIGNED

September 3, 1963

LOCATION

Block 35E; Lot 4

L. I. Rail Road Siding

State Area

AREA

42,008 sq. ft.

ARCHITECT

Oswald Berg and Associates

Bozeman, Montana

CONTRACTOR

Sawyer and Dolfinger

ADMISSION

Adults $1.00

Children 50c

(under 12)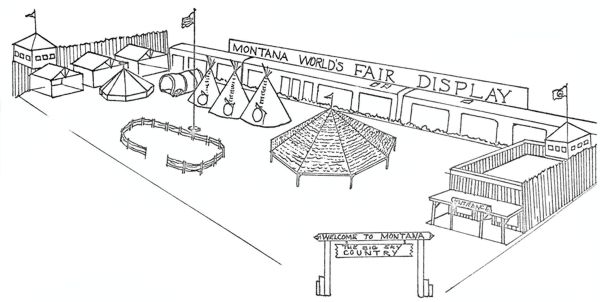 SOURCE: 1964 World's Fair Information Manual
FEATURES

After Montana's 25-car Centennial Train tours the United States in April, seven of these cars will return to New York to be exhibited on the Montana World's Fair site. These cars are complimented by an over-all rustic stockade blockhouse-type construction. The exhibit has a 584 foot frontage with the multi-color railroad cars formed in the background. The cars have three individual murals comprising an over-all total of 21. These colorful panels were complemented with a true artist's touch and resemble a pictorial fantasy of Montana's historical sequence that covers a span of a century. On the inside of these seven cars is a historical museum depicting Montana - past, present and future - with original paintings by Charles M. Russell and Frederic Remington and others whose works are historically famous and extremely valuable.




There is also a sizeable portion of a million dollars in actual gold nuggets from Last Chance Gulch, Alder Gulch, Prickly Pear Canyon, and other famous gold strikes. This is the largest selection of typical and real gold nuggets ever to be assembled. There is a historical collection of General Custer and the battle of the Little Big Horn River where the Seventh Cavalry was annihilated and Calamity Jane, Wild Bill Hickok and Buffalo Bill come in for their appropriate recognition. Game mounts and trophies are interspersed throughout the exhibit. Other cars portray the state's recreational aspects and four seasons' vacation land in the BIG SKY COUNTRY.




The exhibit employs the use of three log buildings constructed in true Montana-style, located on both ends of the site. One, the Administration Building, is the entry to the exhibit cars and contains panoramic wall murals of Montana's favorable climatic conditions and fine, educational advantages. On the opposite end of the exhibit site is the Arcade Building, a museum in one respect and a functional unit as well with its large and interesting collection of antiquated music machines that are all in perfect running order and actually operate. the final building is a full-size model of a Montana log cabin comparable to a cabin on a Montana ranch or a ranch-type home in a city. It is completely furnished even to guns and fishing rods hanging on the walls.




The site contains a sizeable trout pond enclosed with an open roof with a rock fountain protruding. It is the casual visitor's spot for an exchange of "tall stories" and an equally large welcome to those who seek refuge from the strain of Fair activities. Live Montana trout are displayed in the pavilion pool.




The Indian display features Montana Indians from eight different tribes encamped at the exhibit in their natural environment of tepees. There will be several shows of tribal dancing daily.




Foot travel over the exhibit site is on a boardwalk which extends from the museum car exit to the end of the Arcade and log cabin. There is a simulated false front and boardwalk deck roof overhead.




Two corrals on the side contain a full-size mounted mechanical buffalo that is capable of charging with bowed neck and uttering a bellow of rage. Its companion is a full-size horse in bucking position, complete with saddle for visitors to mount and have their picture taken. The other corral contains several different breeds of live cattle to be changed periodically.
---
State of Montana
Source: NY World's Fair Publication For Those Who Produced the New York World's Fair 1964-1965