EXHIBIT

Moroccan Pavilion

AUTHORIZED REPRESENTATIVE

Mr. Moktar Sbai

Somarex N. Y.

Moroccan Pavilion

1141 Broadway

New York 10, New York

MU 4-3855

FAIR CONTACT

Mr. Lionel Harris

CONTRACT SIGNED

February 27, 1963

ADMISSION

Free

LOCATION

Block 31; Lot 24

International Area

AREA

10,000 sq. ft.

ARCHITECT

Mr. Charles Koulbanis

510 Madison Avenue

New York 22, New York

PL 5-0110

CONTRACTOR

Thatcher Construction Co.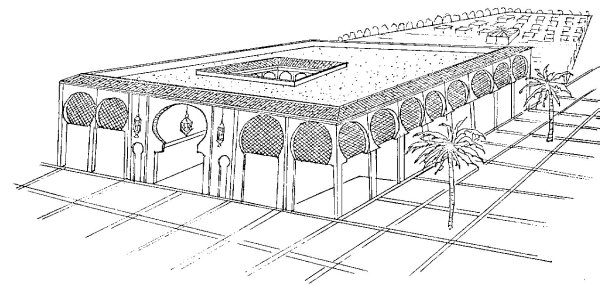 SOURCE: 1964 World's Fair Information Manual
FEATURES

The sights and sounds of North Africa are reproduced in this graceful pavilion of traditional Moorish design with its arches and an open patio.

Interior: One section of the pavilion is a bazaar, where Moroccan goods are for sale. Elsewhere, works by Moroccan artists are on display, as well as documents and memorabilia significant to Morocco's history. An information center offers advice on import - export trade and acquaints the visitor with the country's tourist attractions.

Highlights

Land of the Bazaar: Expert craftsmen and women in Moroccan dress weave carpets and make brass ware and leather goods. Visitors can see them knotting rugs, making more than 20,000 knots per square yard at the rate of a yard a week. Moroccan wines and food are also on sale.

Restaurants: There are three restaurants, all of which present different surroundings and prices. A sidewalk cafe is in front, a serve-yourself cafeteria in the rear. The indoor restaurant, the "1001 Nights" offers Moroccan menus and entertainment; dancers, singers and musicians.
---
Pavilion of Morocco
Source: NY World's Fair Publication For Those Who Built the Fair