EXHIBIT

NCR Pavilion

AUTHORIZED REPRESENTATIVE

Mr. H. C. Keesecker

Vice President Marketing

National Cash Register Company

Main & K Streets

Dayton 9, Ohio

513 449-2000

PUBLIC RELATIONS AGENCY

Mr. John W. Jones

Fred Rosen Associates

717 fifth Ave.

New York, New York

PL 1-2970

FAIR CONTACT

Miss Phyllis Adams

CONTRACT SIGNED

January 5, 1962

ADMISSION

Free

LOCATION

Block 16; Lot 4

Industrial Area

AREA

18,892 sq. ft.

ARCHITECT

Deeter & Ritchey

4 Gateway Center

Pittsburgh 22, Pa.

412 391-4850

CONTRACTOR

George A. Fuller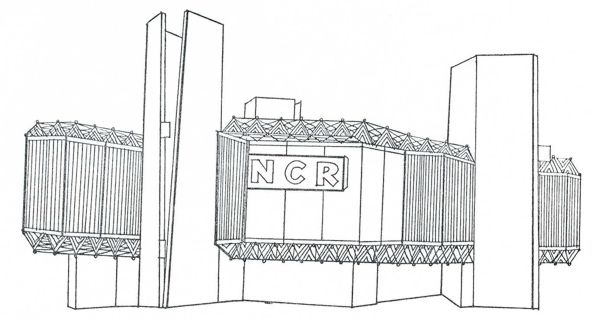 SOURCE: 1964 World's Fair Information Manual
FEATURES

The theme of the National Cash Register Pavilion is "Man and His Records," depicting the part business machines play in today's world. Additionally, visitors receive an insight into the fascinating world of research and the products of tomorrow.




Exterior Supported by three concrete pylons, the structure employs special "space-frame" construction. Sweeping areas of glass make possible an "open" decor on the ground level which provides 7,800 square feet of display area. The upper level consisting of 9,178 square feet overhangs the first floor.




Interior The pavilion dramatizes the science of information processing and features surprising new methods of recording, storing and analyzing information. Live demonstrations, such as "The Micro-World of Tomorrow," shows new paths of exploration which now enable man to control light and color and energy, even shrinking the entire contents of the King James Bible to the size of a projector slide. Visitors are able to question NCR computers and see electronics in action.
---
National Cash Register
Source: NY World's Fair Publication For Those Who Produced the New York World's Fair 1964-1965