Dramatic night-time view of the NCR Pavilion
Source: United Airlines Promotional Slide presented courtesy Bradd Schiffman Collection
Dramatic day-time view of the NCR Pavilion
Source: Commercial Transparency by Photo Lab, Inc., Washington, DC presented courtesy Bill Cotter Collection
---
Although the footprint of the NCR Pavilion was small compared to the other industrial giants represented at the Fair, maximum use of space was gained by employing "space frame" construction that created an interior exhibit space free of support column obstructions. The spider-web-like frames can be seen at the roof and second floor levels. The upper space frame actually supported the lower by use of tie-rods which connected them together. The NCR Pavilion occupied a prime spot at the Fair -- in the Court of the Moon across from the Lunar Fountain.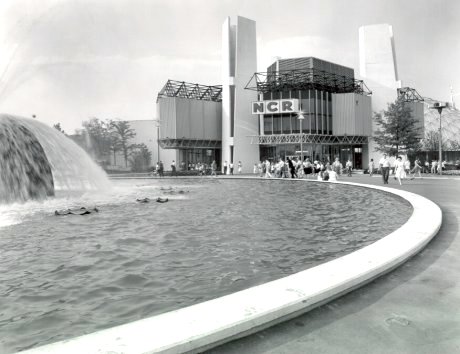 This rare interior view of the pavilion looks down into the lower level exhibit level from the second floor. Note the lack of interior supports. The tie-bars connecting the upper and lower space frames can be seen surrounding the opening between the two floors which accommodated the escalators.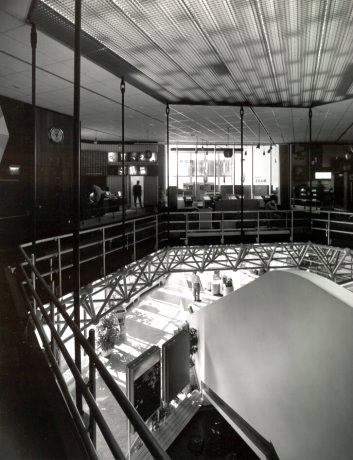 This night shot shows a closer view of one of three exterior towers that provided the main support for the structure. Although massive, the towers appeared light because of their open design.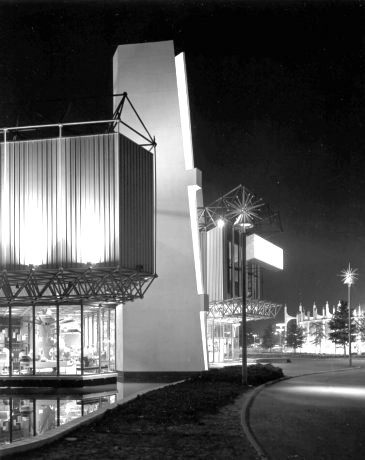 Source: Photographs © DRS ARCHITECTS - NO Unauthorized Reproduction is Permitted
---
INASMUCH AS the total cost of the Fair and its fringe benefits comes to an estimated billion dollars, gold is a significant color at Flushing Meadow. The National Cash Register Co. is a natural for gold, but actually its exhibit centers about "Man and His Records," which dramatizes the science of recording, analyzing and storing information.
NCR stands for National Cash Register. After dark its pavilion -- color-matched by the Lunar Fountain out in front -- would have gladdened the heart of old King Midas.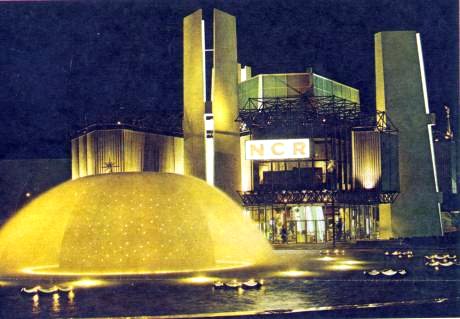 Source: News Colorfoto by Edmund Peters

Source: New York Sunday News - Date unknown