EXHIBIT

New England States Exhibition

AUTHORIZED REPRESENTATIVE

Mr. Melvin D. Peach, Exec. V.P.

New England Council World's Fair Corporation

1032 Statler building

Boston 16, Massachusetts

617 LI 2-2580

__and

Mr. David D. Munsell

Pavilion Manager

New England States Exhibit

World's Fair, New York 11380

888-6600

FAIR CONTACT

Mr. Michael Pender

CONTRACT SIGNED

June 4, 1963

ADMISSION

Free

LOCATION

Block 44; Lot 1

Court of States

State Area

AREA

81,518 sq. ft.

ARCHITECT

Campbell and Aldrich

711 Boylston Street

Boston, Massachusettes

617 CO 6-4780

PUBLIC RELATIONS AGENCY

Mr. Paul Newsome

Newsome and Company, Inc.

Statler Office Building

Boston 16, Massachusetts

617 LI 2-3720

EXHIBITORS

Connecticut

Maine

Massachusetts

New Hampshire

Rhode Island

Vermont

888-7714

888-7710

888-8636

888-8634

888-7712

888-7716

CONTRACTOR

Gilbane Building Company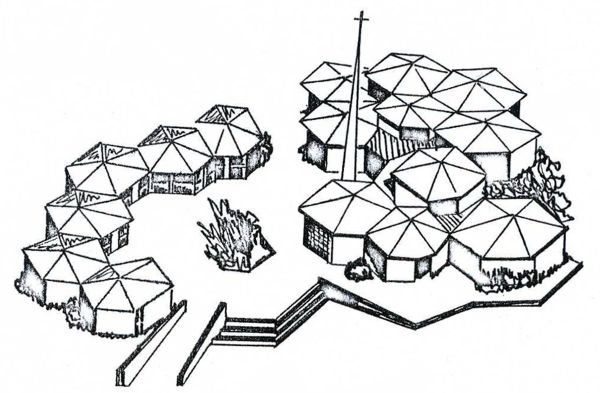 FEATURES

"New England; Where Our Past Began, Our Future Begins," is the theme of this exhibit which is a reconstruction of a typical New England Village. A centeral aspect is the Village Green upon which a series of community events portray aspects of New England life. Surrounding the green are the six state pavilions, a Central Theme Building, the Court of Industry and Commerce, a typical country store and the Millstone Restaurant - Cocktail Loung which specializes in New England dishes.

Events schedules for the Village Green are presented by individual communites throughout the six states and include musical performances, displays and demonstrations by master craftsmen and re-enactment of historical events.

One of the special attractions is a tribute to the late President John F. Kennedy, through the use of an exhibit that involves pictorial displays of the places associated with his life in New England. The display shows President Kennedy in an historic line of New England presidents.

Private industry in New England sponsors a major presentation of the region's leadership in a wide variety of fields from agriculture, through insurance and banking to medicine and space-age technology. The Court of Industry and Commerce also features projections of the electronic marvels of the future.
SOURCE: 1965 World's Fair Information Manual

STATE
GOVERNOR
LIAISON REPRESENTATIVE

Connecticut

Hon. John Dempsey

Governor, State of Conn.

Executive Chambers

Hartford, Conn

Mr. Leroy Jones

Managing Director

Connecticut Development Commission

State Office Building

Hartford, Connecticut

Maine

Hon. John H. Reed

Governor, State of Maine

Executive Chambers

Augusta, Maine

Hon. Standish Bachman, Commissioner

Main Department of Economic Development

State House

August, Maine

Massachusetts

Hon. John Volpe

Governor, State of Mass.

Executive Chambers

Boston, Massachusetts

Commissioner Theodore Schulenberg

Mass. Dept. of Commerce and Development

150 Causeway Street

Boston, Massachusetts

New Hampshire

Hon. John W. King

Governor, State of N.H.

Executive Chambers

Concord, N. H.

Mr. John Brennan

N. H. State Planning and Development Comm.

State Office Building

Concord, New Hampshire

Rhode Island

Hon. John H. Chafee

Governor, State of R.I.

Executive Chambers

Providence, R. I.

Mr. Adolph T. Schmidt, Exec. Director

Rhode Island Development Council

Roger Williams Building, Hayes Street

Providence 8, Rhode Island

Vermont

Hon. Philip H. Hoff

Governor, State of Vermont

Executive Chambers

Montpelier, Vermont

Commissioner Elbert G. Moulton, Jr.

Vermont Development Department

State Office Building

Montpelier, Vermont
---
New England States Exhibition
Source: NY World's Fair Publication For Those Who Produced the New York World's Fair 1964-1965