EXHIBIT

New York State

AUTHORIZED REPRESENTATIVE

Lt. Governor Malcolm Wilson, Chairmn.

N.Y. State Commission on World's Fair

22 West 55th Street

New York 19, New York

JU 2-7030

__and

Mr. Stanley C. Hope, Executive Dir.

Mr. William Drohan, Project Director

N.Y. State Commission on World's Fair

1270 Avenue of the Americas, Rm. 304

New York 20, New York

CI 7-5800

FAIR CONTACT

Mr. Michael Pender

CONTRACT SIGNED

February 2, 1962

ADMISSION

Free

TOWERS

Adults $1.00

Children $ .25

LOCATION

Block 46: Lot 1

State Area

AREA

129,392 sq. ft.

ARCHITECT

Philip Johnson Assoc.

375 Park Avenue

New York 22, New York

PL 1-7440

CONTRACTOR

Thompson-Starrett

Construction Co., Inc.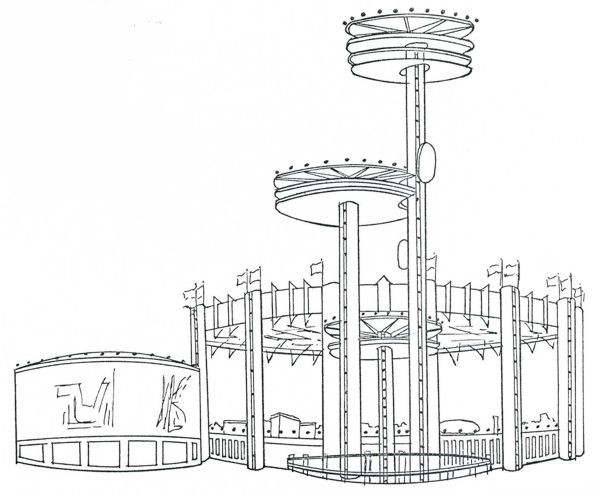 SOURCE: 1964 World's Fair Information Manual
FEATURES

Conceived as the "State Fair of the Future", the New York State Exhibit combines the activity and the excitement of the traditional local fair with a dramatic and unique architectural treatment that envisions a world of tomorrow. The exhibit which consists of three main structures, includes a "Tent of Tomorrow", three observation towers and a theatre.




"Tent of Tomorrow": The "Tent of Tomorrow", the heart of the exhibit, is an elliptical building supported by 16 white concrete columns each 100 feet high. The pre-stressed cable suspension roof with the translucent colored fiberglas panels creates a stained glass effect.

On the main floor, Texaco Oil Company has made a mammoth map of the state in terrazzo. Around the map are a number of impressive attractions. The New York State Power Authority shows its power network on a 144 square foot map and exhibits a 26 foot replica of the St. Lawrence hydroelectric plant, with spinning turbines seen through transparent plastic. The New York Council on Fine Arts has two large collections which have been assembled from many sources. One shows portraits of early New York colonists; and the other offers examples of the Hudson River School of painting. This ground level is also the scene of various performing competitions as well as fashion shows and music by leading bands. The daily fashion shows include all phases of the fashion industry such as jewelry, millinery, leather goods and hair pieces. There is also a 700 seat restaurant operated by Schrafft's with automatic vending of all types of inexpensive meals. On the mezzanine, strollers walk along a miniature highway lined with glimpses of the state's life - a conservation area, a rose garden, exhibits from regional museums and the state's smaller industries. Members of the state legislature are on hand, and New Yorkers who feel there ought to be a law about something can state their gripes in writing, to be delivered to Albany. A machine answers questions about New York's legislative process.




Observation Towers: Adjacent to the main structure are three observation towers, rising 60 feet, 150 feet and 226 feet respectively. Each tower is capped by an observation platform 64 feet in diameter. The middle tower sells refreshments and the shortest tower is used as a lougne for visiting dignitaries. The 226 foot tower is the highest point in the World's Fair grounds. From this tower visitors have a sweeping view of the Fair. All three towers are accessible by elevators as well as stairs. The speedy "Sky-Streak" clear plastic enclosed capsules soar up the sides of the towers to the various platforms. With the capsule operating outside the columns, visitors have a dramatically picturesque ride.




Threatre: The final component of the New York State insallation is a circular concrete theatre. The exterior of the theatre is decorated with examples of "pop" art such as: a comic strip readhead laughing her head off; a Times Square-like bill board; an asemblage of parts from smashed automobiles; a green parachutist; the 13 most wanted men; fragments of blown-up photographs of the Sistine Chapel, a bald eagle, the Statue of Liberty and an astronaut capsule; and a group of formal black tuxedos, rock hard by treatment with polyester resins.




The threatre houses several hundred people standing, who view a panoramic motion picture of New York State as a place to live, work and play, on a 360 degree, 40 foot high screen on the walls.
---
New York State
Source: NY World's Fair Publication For Those Who Produced the New York World's Fair 1964-1965