Source: Whirlpool Exhibit brochure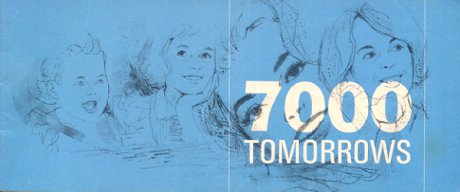 | | |
| --- | --- |
| | A child lives in wonder of a world that is always new, always exciting ... a world in which each new day is a tempting gift package, waiting to be opened and enjoyed. The wonderful world that waits for you and your children through tomorrow and tomorrow and tomorrow ... a thousand tomorrows ... two thousand tomorrows ... seven thousand tomorrows ... is even today taking form in the mind's eye of hundreds of dedicated scientists and engineers. |
A child's world is a small one where each new experience is judged on the basis of taste and feel, where bright colors and happy sounds have far greater value than ideas like practicality and utility. All a child knows about a kitchen is that is is full of shiny, sparkling things that move and make noise ... toys for mother to play with.

But there's really more to a kitchen than that.
Today's

kitchen is office,

laboratory, workroom

and social center

Today's appliances rise to the occasion. Appliances that are miracles of efficiency, appliances beyond the wildest imaginings of yesterday's homemakers, are common-place in the kitchen of today. Fairytale conveniences like these are available to homemakers right now ...

ranges that can start cooking when you're away and ranges that keep foods hot for hours without overcooking
refrigerators that never run out of ice because they make ice automatically, with no trays to fill and spill
dishwashers that wash dishes and glasses, pots and pans sparkling clean without prerinsing or scraping
washers that "remember" how to wash every fabric and dryers that shut off when clothes are "dry enough"

And these are just the forerunners of appliance miracles waiting for you a few thousand tomorrows from now!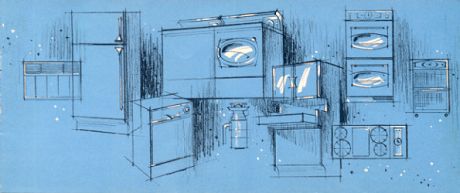 A child is seven years old. She leaves the dependency of babyhood behind. She crosses streets alone, goes to school, learns to read. The child of 1970 is aware of her environment ... she is matter-of-fact about supersonic flight and pocket-size television. And she accepts the tranquil routine of her daily life ... tasty, nutritious meals served on time, clean clothes when she needs them, the right atmosphere for work, play and rest ... without giving a thought to how it all got that way.

But her mother knows. Her 1970 kitchen is not so different from the one she was proud of a few years ago, yet it's full of amazing new things. It certainly looks different! Everything is built in. And look at the wonderful, work-saving ideas that are built in, too.
Take thermoelectric refrigerators. Each small unit is a self-contained refrigerator that keeps food chilled until she's ready to prepare it. Then with a touch of a button the refrigerator becomes a cooking unit that heats food ready-to-serve in seconds! When she's through, a touch of a control and the refrigerator disappears into the wall. She touches still another control and still another cooking unit pops out of the wall, ready to use.

After she's enjoyed the delicious meal she can prepare in minutes in her 1970 kitchen, cleanup is nearly effortless, too. The lazy susan in the table's center houses both dishwasher and disposer.

Incidentally, have YOU ever wondered just what goes on inside a dishwasher. It's really amazing ... and here's your chance to see what really happens when you shut the door, so come along.

1970 convenience wall kitchen
Take a walk inside the world's largest dishwasher.

See how the strong jets of water spray all around you, washing dishes sparkly clean. You can walk between the two revolving spray arms of the world's largest dishwasher and not get wet at all!

And there are many wonders waiting for you in 1970 ... a short two thousand tomorrows away. Your home will have its own automatic wash 'n wear closet ... you'll simply hang dirty clothes away, then take them out of the closet clean and ready to wear.

A combination shower and steam bath will help you relax away the day's tensions ... your children will think the air curtain that keeps heat inside the shower enclosure is magic. And you'll have a plug-in supply of hot air to run your hair dryer or your razor.

You'll read in comfort while you relax in a reclining lounge chair ... the pages of your book or magazine will be projected on a screen that's at the right angle and in the right focus for you.
A. Bathe in water or steam ... and no shower curtain to wash, ever.

B. Your private dry cleaner will clean clothes in minutes, automatically.

C. The Com-Fit lounge is made to your measure for perfect comfort.
Seven thousand tomorrows are fulfilled as the child who has grown, and learned, and lived in wonder through the years becomes 1985's homemaker. The proud mistress of her own home ... cooking, cleaning, caring for her family.

What a wonderful array of conveniences she has at her command, to help her serve tasty, nutritious meals and keep her family happy and healthy. Routine tasks will be handled automatically to give 1985's homemaker more time to devote to rewarding relationships with her family and friends. Carefree living will come easy in the home of 1985 ... it will be built in with the incredible life support devices that will be the servants of tomorrow.

Home life in 1985 will revolve around the Life Support Center. The central energy generator, which supplies the power for lighting and heating and cooling as well as for operating all the life support devices is located here.
| | |
| --- | --- |
| | The Life Support Center is really the heart of the home. |
A. The Life Support Center is the location of all the devices that heat, cool and control the humidity of the home's atmosphere, to make it comfortable and healthful every day of the year.

B. This is the indoor garden, where the family will grow its own fruits, vegetables and flowers ... bringing them to maturity in days instead of months in the carbon dioxide enriched atmosphere provided by the TECTROL* process. In 1985 they'll enjoy home-grown, garden-fresh produce year 'round!

C. Here, too, is the water purification system. all water will be scientifically conditioned by this system to insure tastier cooking and snow-white laundering.

*Tmk
| | |
| --- | --- |
| | Cleaning house won't be much of a chore in 1985. A central vacuum system will be used to dust, sweep, even scrub, dry and wax floors. |
| | |
| --- | --- |
| | Meal preparation will be easy in 1985, too. A touch of a button will tell the homemaker at once what foods she has in frozen storage and a warning light will flash to tell her when staples should be replenished. And automatic inventory control is only the beginning. Menumatic control will order foods from storage and deliver them to the food preparation center when she needs them, ready for the microwave oven which will cook them from the frozen state to delicious doneness in seconds. A special TECTROL storage unit will keep fruits and vegetables fresh and crisp. There will be special storage for desserts as well as a built in beverage dispenser that automatically supplies crushed, shaved or cubed ice. When she's ready for dinner, thermoelectric dishes will hold hot foods at serving temperature and keep cold ones chilled. |
Many wonders are waiting for YOU, too, seven thousand tomorrows from now, in 1985. But you needn't wait to enjoy many of the miracles of time and work saving convenience you've seen here. They're ready for you now, wherever RCA Whirlpool home appliances are sold.

Visit the RCA Whirlpool dealer in your town. He's featuring many World's Fair specials on RCA Whirlpool home appliances right now at prices that are the lowest in years!