The Pavilion of Paris and French Industry

Le Pavillon de Paris et des Industries de

FRANCE

New York World's Fair 1964-1965
Foire Mondaile de New York 1964-1965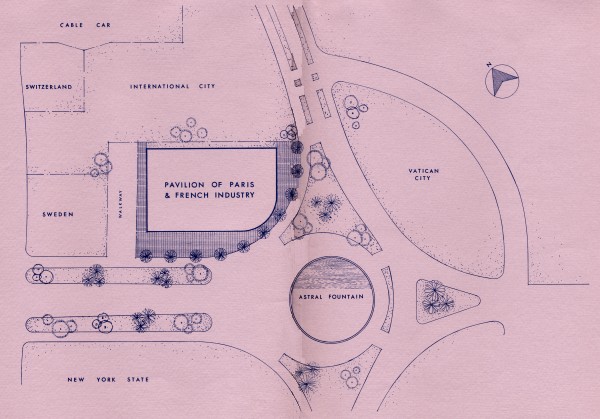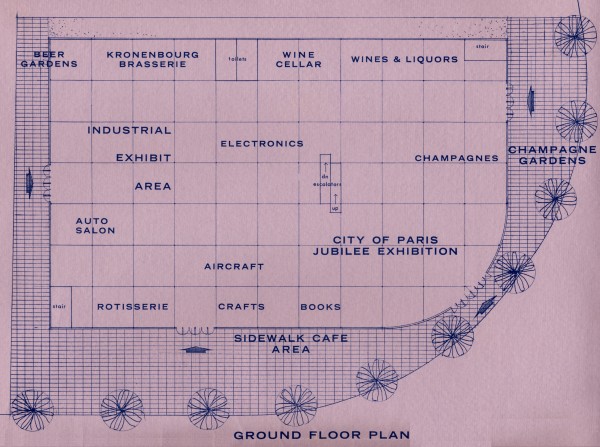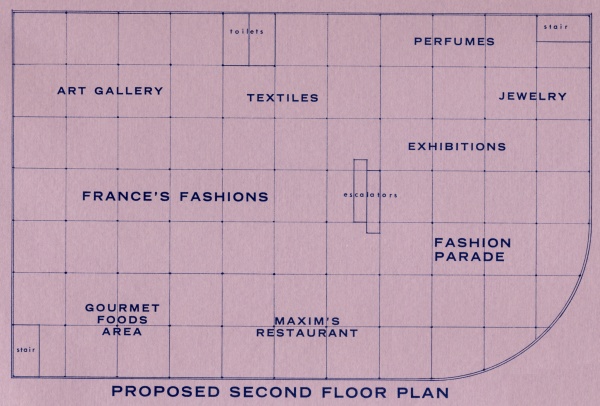 SOURCE: Promotional Sales Brochure for the Pavilion of Paris and French Industry
The Pavilion

The Pavilion of Paris and French Industry, the Fair's most elegant showcase and market place, consists of one magnificent structure dedicated to the Arts, consumer products and the creative exhibits of modern French industry. Thousands of square feet of French Art, Culture and Industry, ideally located on the main promenade, dominating the most dramatic international and national section of the New York World's Fair . . . creating the spirit that is France and attracting the multitude by the aura and excitement of Paris.

Le Pavillon

Le Pavillon de Paris et de Industries Francaises, centre d' exposition et de vente le plus elegant de la Foire, consiste en une structure magnifique dediee aux Arts, aux produits de consommation et a la presentation ingenieuse des industries modernes francaises. Sur de centaines de metres carres, l'Art, la Culture et l'Industrie de France, idealement situes sur la promenade principale, domineut la partie internationale et nationale la plus dramatique de L'EXPOSITION INTERNATIONALE de NEW-YORK . . . evoquant l'esprit qui est celui de la France et attirant les multitudes par le prestige et l'excitation de Paris.

The Fair

1964-1965, the time of the New York World's Fair, commemorating the 300th Anniversary of the founding of this great city. Unlike other Fairs, the emphasis of the New York World's Fair is on achievement, thriving in the fertile arenas of free societies. Exhibits will demonstrate the ingenuity, imagination and contributions of free men, working together in harmony to produce a standard of living unequaled in the history of civilization. 120,000,000 people from free nations everywhere, possessing the largest purchasing potential ever, will congregate and flow through the massive exposition. Never before has industry been presented with so large a captive audience and so unique an opportunity.

L'Exposition

1964-1965, epoque de L'EXPOSITION INTERNATIONAL de NEW-YORK, commemore le 300eme anniversarie de la fondation de cette grande cite. A la difference d'autres foires, L'EXPOSITION INTERNATIONAL de NEW-YORK mettra l'accent sur les realisations, florissant dans les arenes fertiles des societes libres. Lex exhibitions montreront l'ingeniosite, l'imagination et les contributions des hommes libres, travaillant en harmonieuse cooperation pour creer des conditions de vie inegalles dans l'historie de la civilisation. 120 millions de personnes de toutes les nations libres a travers le monde, representant le plus grand potentiel d'achat jamais imagine, se rassembleront et s''ecoulerant dans cette monumentale exposition. Jamais encore auparavant, un public aussi influencable et une occasion aussi unique, n'avaient ete offerts a l'industrie.