Mission Impossible
The last of the World's Fair projects to be undertaken, and perhaps the most stunning Disney achievement for the Fair, was "It's A Small World." Pepsi-Cola, who was working with UNICEF, the United Nations agency for children's welfare, was looking for an attraction that would provide a "salute to UNICEF and all the world's children."
Pepsi executives went to California to request the help of Disney. When Walt told Pepsi that he would take the challenge of doing their Pavilion, only a little more than twelve months were left before the opening of the Fair. He immediately went into light speed, wasting no time in getting the contracts and agreements concluded. The easy part was done!
Walt went to meet with his Imagineers, who were immersed in their work on the other three Pavilions, to let them know the "good news." They thought he was crazy. "One day Walt pulled all of the show designers in, and he said, "There's one more piece of real estate that they've offered to us. And I've got this idea for a little boat ride that maybe we can do," remembered Rolly Crump. "And we thought, a little boat ride? I mean God, we were working on Lincoln, the Carousel of Progress, both of which were using the highest technology and animatronic figures. And we were working on Ford, too. All of this and Walt wants to do a little boat ride!
While the show designers sat around the table with their mouths agape, Walt told them that he wanted the boat ride to feature the children of the world, offering a salute to UNICEF. When the meeting was over, the talented group left with their assignment - to generate concepts and ideas for Walt's little boat ride.
The boat ride "system" had already been in the development stages at the time of Walt's meeting. Arrow Manufacturing in Mountain View, California, had been working on a system based on an outline by Bob Gurr. Gurr recalls, "Arrow was trying to get a boat ride figured out, and I remember discussing it with them. I drew up a configuration for a trough that had a center-post wheel in it that they used. And they figured out all the water pump stuff. Then all of a sudden that boat was adopted for the Small World ride."
Arrow Manufacturing's "test track" for the system that would eventually propel "the happiest cruise that ever sailed."
SOURCE: 20th Anniversary New York World's Fair 1964-1965 - A Disney Retrospective © 1984 Walt Disney Productions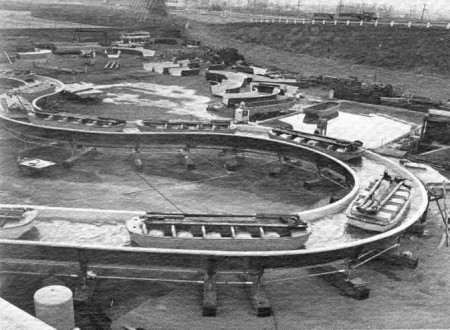 A very simple L-shaped building with an asphalt floor was quickly designed, with hardly the slightest idea of what would be installed inside. Hot off the drafting table, the plans for the 32,000 square foot structure were sent to New York. "It was just a corrugated barn," offered Crump. "It looked like aluminum, but it was just cheap, plastic corrugated siding. It was the ugliest building you ever saw in your life."
Not even a month had gone by since Walt had accepted Pepsi's invitation, and he already had his show designers working on concepts, a boat-ride system for the Pavilion, and plans for the building in New York, with construction to begin soon. It was a masterful start to what appeared like an impossible mission.
Joan Crawford to the Rescue
... [P]reliminary ideas ... were put together ... and [flown] out to Pepsi's headquarters in New York for a presentation. Pepsi's board of directors watched with a detached interest [as they were] told of the preliminary plans for the happiest cruise that ever sailed. When [the presentation was] finished, most of the board reacted in a negative manner, asking such questions as, "Why do we need this Mickey Mouse thing?"
The reaction illustrates why Pepsi approached Disney so late in the game. "They couldn't get to first base with any designer or anything," recalled Bob Gurr. "Finally, a year after they should have started, they approached us." Joan Crawford, the film actress, was on the board of directors for Pepsi. She knew that Disney was working on three Pavilions, so it was under her suggestion that Pepsi approached Disney.
It was only about ten months from the opening of the Fair, and Pepsi's board of directors was about to make the same mistake it had made with the previous designers; they were going to derail the concept. Joan Crawford had seen enough. She stood up, and with the talents acquired from years of playing leading ladies in Hollywood, she emphatically informed the board that, "We are going to do this!"