© 1963 Wonderland Music Co., Inc.
. "It's a world of laughter, a world of tears
It's a world of hopes and a world of fears
There's so much that we share
That it's time we're aware

It's a Small World after all.

"There is just one moon and one golden sun
And a smile means friendship to ev'ryone

Though the mountains divide

And the oceans are wide

It's a Small World after all." .
Although Disney agreed to design a ride for Pepsi-Cola and UNICEF at the last minute, the creation of the music for "It's A Small World" was not hindered by this time constraint and the result was the most memorable song to come out of the '64 World's Fair.
On July 5, 1963, the Disney finance department opened a new account labeled "Music and Lyrics for Pepsi-Cola Exhibit." Prior to this date, discussions about music for the Pepsi-Cola Pavilion had revolved around the idea of children from many nations singing their respective national anthems. But no one could figure out a way to have dozens of songs playing simultaneously without creating cacophony. Walt then came up with the idea, probably not too long before July 5, to have the Sherman Brothers write a simple tune that could be sung like "Row, Row, Row Your Boat," or as a "rondelet" to use Walt's malaprop. The tune had to be simple and catchy, but also had to have enough variety so as not to become redundant over the course of the ride. The Sherman Brothers quickly came up with a song. Too quickly, they thought. It seemed too simple. Perhaps they could rework it, refine it. And if Walt didn't like it, they had better have alternates. So they wrote two additional songs for possible use in the Pepsi-Cola Pavilion. But they still didn't feel they had "the song." After postponing their pitch to Walt for two weeks, they received a call from Walt's secretary and, ready or not, he was on his way down to hear what they had come up with. The Shermans wisely chose to pitch the first song they had written. When they were done singing "It's A Small World," Walt turned and said, "That'll work." And with those two words, the Sherman Brothers' fate in World's Fair and Theme Park history was sealed.
The Sherman Brothers, Richard and Robert (standing) go over the music and lyrics of their composition, "It's A Small World."
SOURCE: It's A Small World - Complete Souvenir Guide and Behind the Scenes Story © 1964 Walt Disney Productions. All rights reserved throughout the world.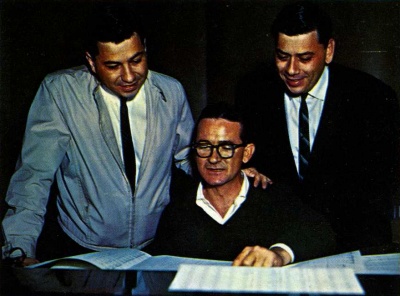 The Sherman Brothers solution to Walt's initial request was an ingenious one. They wrote the tune "It's A Small World" to be sung as a round, with the verse (It's a world of laughter...") sung in counterpoint to the chorus ("It's a small world after all...") Additionally, the song would be orchestrated and performed in musical styles appropriate to each section of the ride, insuring that the appeal of "It's A Small World" would not be diminished by repetition.
Creatively, it was decided that all of the music for It's A Small World" would remain at a constant tempo throughout the ride. To do otherwise would result in the sort of cacophony that "It's A Small World" was written to avoid. Speakers would be placed on the sets, rather than in the boats. As long as the tempo stayed constant and the regular pattern of the song remained intact, an interesting phenomenon would result as the "FantaSea" boats passed through each land. Because the source of the music for each land was stationary, it appeared to grow louder as each boat approached, and appeared to fade as the boat moved on to the next land. For example, as the boat moved away from France and toward Switzerland, the "ooh-la-las" diminished in volume as the "Oo-dle Ah-dee-ay" would begin to increase in volume. So each boat, along with the passengers on board became, in essence, a giant fader. This illusion of fading audio up and down via stationary speakers and moving passengers would continued to be exploited by Disney rides at Disneyland and beyond.
On October 7, a piano guide track was recorded of "It's A Small World." This piano track, played in strict tempo to a metronomic click, along with the written melody line and lyrics, was copied and sent to Italy, Japan, and Mexico, where the lyrics would be translated, and children would be recorded singing "It's A Small World" in their native language. Locally, a Los Angeles schoolteacher began translating the song into Swedish, and British children were sought to add their accents to the Small World roster. Although a search was made in the Los Angeles area to find children between the ages of 8 and 12 with true British accents, the lack of success resulted in requests to the Disney London office for assistance. By early November, the Disney studios received recording of "It's A Small World" in Italian, Japanese, Spanish, and from London, with the authentic British accents.
At this same time, a copy of "It's A Small World" was sent to a local musician to determine if the tune was suitable for bagpipes. It was.
On October 16, a music breakdown was completed for "It's A Small World." Each country would have to have its own geographically identifiable version of "It's A Small World." Not all countries would have singers. Some countries would be combined thematically into larger groupings, for example Central Africa or Scandia. For the ride itself, 29 separate regional versions of "It's A Small World" would be required in addition to the Grand Finale. For the queue line outside the ride, two large and lengthy symphonic treatments of "It's A Small World" would be needed as well.
Because he had to repeat the title song for the duration of the ride, [conductor and arranger Bobby] Hammack worked hard to find ways harmonically and orchestrally to distinctly identify a country or region. Some countries were easy. Scotland for example, could be instantly identified by the drone of the bagpipe. Japan, by the use of pentatonic scales. Other musical distinctions, such as Spain from Mexico, or India from Bali, required more thought - particularly if they were to be perceived by the mostly untrained ears of fairgoers. Although the original idea had been to include music from each nation represented in the ride, Bobby Hammack managed to avoid interpolation of national tunes in the ride proper, with one exception. The Ireland section of "It's A Small World" makes use of the Renaissance dance tune "Dargason," more familiarly known as "The Irish Washerwoman." The arrangement for each country lasted 48 seconds. They included one statement of the verse and one statement of the chorus of "It's A Small World" as well as an additional 16 bars which repeated either the verse or the chorus, or overlapped verse and chorus, or mixed elements of both verse and chorus. By purposefully obfuscating the last third, or 16 seconds, of each regional arrangement, Bobby Hammack added unpredictability and coruscation to the overlapping elements of "It's A Small World."
With the recording on January 16 of the Finale and queue music vocals, utilizing 15 children and eight adults, "It's A Small World" was almost done. The Finale, like the other "Small World" cues was 48 seconds in length. It began with the children singing the verse. Then, joined by the women, they sang the chorus, while the men sang "bum, bum, bum" on the melody of the verse. It ended with seven part harmony on the chorus of "It's A Small World."
Unlike other pavilions, there are no horror stories about "It's A Small World." The ride had been set up on the [Disney] studio lot, and there the basic levels between musical cues had been set. Aside from minor adjustments to levels in the show building, the ride functioned beautifully.
Both the Sherman Brothers and Bobby Hammack had to have been pleased with their work. Certainly the World's Fair attendees were.
Makin' Memories
For those unable to attend the Fair in person, "Disneyland Goes to the World's Fair" brought not only the sights, but also the sounds of the Fair into their homes. This May 17, 1964 broadcast of Walt Disney's Wonderful World of Color made use of several cues from the Ford Pavilion, "There's A Great big Beautiful Tomorrow" from Progressland, and multiple Bobby Hammack arrangements from "It's A Small World."
"Official souvenir record from Walt Disney's 'It's A Small World' at the New York World's Fair" 7" 45 RPM, tucked into its own mailing envelope.

Record Jacket (front)

Record Jacket (back)
For those lucky enough to attend the Fair, and who wished to take home a souvenir, Walt Disney Productions willingly obliged, in the form of records and sheet music. Long after the Fair had closed, one could still hear the strains of "There's A Great Big Beautiful Tomorrow" on the 7" 33 1/3 RPM "Exciting souvenir record from General Electric's Progressland." "It's A Small World" could be relived on either the 12" 33 1/3 narrated tour on Disneyland Record LP St-3925 or the "Official souvenir record from Walt Disney's 'It's A Small World' at the New York World's Fair" 7" 45 RPM, tucked into its own mailing envelope. Sheet music for both "There's A Great Big Beautiful Tomorrow" and "It's A Small World" was also available. "Great Moments With Mr. Lincoln," in an expanded version of the show, was available on Vista BV3981, a 12" 33 1/3 LP (in either stereo or mono), accompanied by a full color booklet. An abridged version of the show, labeled an "Official souvenir of the New York World's Fair," was also available, packaged for mailing, on a 7" 33 1/3 Vista Ster-804 release. Sadly, none of the [Ford Motor Company's] Magic Skyway music was ever released on vinyl.