EXHIBIT

Heliport and Port of New York - New Jersey Exhibit

AUTHORIZED REPRESENTATIVE

Mr. Francis D. Miller

The Port of New York Authority

111 Eighth Avenue at 15th Street

New York 11, New York

AL 5-1000

RESTAURANTS

Terrace Club

Mr. Guy Tozzoli

The Port of New York Authority

111 Eight Avenue at 15th Street

New York 11, New York

AL 5-1000

__and

Top-of-the Fair, Inc.

Mr. Andre

The Port of New York Authority -

Heliport Building

886-6680 or 888-6681

CONTRACT SIGNED

April 30, 1962

LOCATION

Block 50; Lot 14

Transportation Area

AREA

60,263 sq. ft.

ARCHITECT

Mr. R. J. Winters

Ass't Chief Engineer of Design

The Port of New York Authority

CONTRACTOR

W. J. Barney Company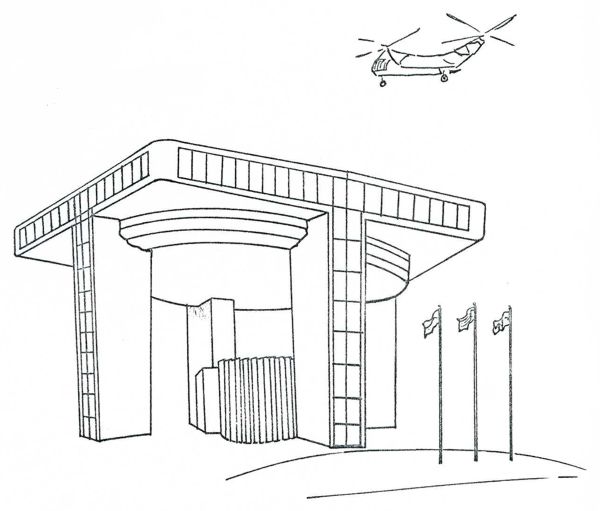 SOURCE: 1964 World's Fair Information Manual
FEATURES

A rooftop heliport with a landing deck 150 feet by 200 feet - The Air Gateway to the Fair - is located on a main axis between the two principal entrances in the center of the Transportation Section. The building, 160 feet by 210 feet is set high atop four massive tapered columns. When viewed from each of its four sides the pavilion forms a gigantic symbolic "T" for Transporation.

There are three Sikorsky S-61N helicopters for the sightseeing and scheduled passenger operations. New York Airways, Inc., uses one of these helicopters for "shuttle Air Bus" service between the heliport, Manhattan and the Port Authority airports.

Two of the helicopters are in constant use for sightseeing. These aircrafts carry 24 passengers every 6 minutes to "SEE THE FAIR FROM THE AIR", at altitudes up to 500 feet. Flights commence at 9:00 a.m. and continue long after dark.

The official World's Fair restaurant, known as TOP-OF-THE-FAIR RESTAURANT, open from 8 a.m. to 2 a.m. accommodating 1,500 people and the official World's Fair Club known as the TERRACE CLUB, are immediately beneath the heliport, while the cocktail lounge is one level lower. The facilities are operated by Knott Hotels Corporation, and opened approximately 6 months before the official Fair opening.

The restaurant and cocktail lounge are open to the public. The Club is for members only. All command a spectacular view of the Fair grounds.




The base structure of the building houses the Port of New York-New Jersey exhibit featuring a film, "American Journey", a wrap-around 360 degree motion picture. Here the dramatic story of the world's greatest port, its facilities, service and regional planning for continued development is dramatized.
---
Port of New York Authority
Source: NY World's Fair Publication For Those Who Produced the New York World's Fair 1964-1965