COLOR AT THE FAIR
The Radio Corporation of America's activities at the 1964-65 New York World's Fair will feature a fully equipped color television communications center and a closed-circuit color television network, both of which will be operated as a public service and programmed to make the Fair more enjoyable and exciting. Designated as the Official World's Fair Color Television Communications Center, the RCA pavilion is located just inside the main gate and quietly highlights the circular theme of the Fair. Within the copper-ornamented, white stucco structure, visitors will be able to see themselves on color television, enjoy a backstage view of a color TV studio in operation, and listen to stereophonic music in two lounge areas.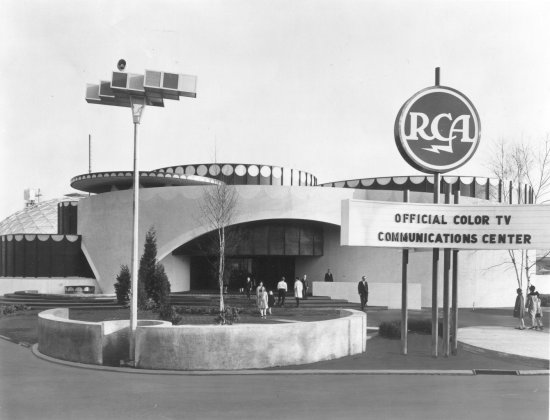 ---
HISTORY REPEATS
David Sarnoff, Chairman of the Board of the Radio Corporation of America, today dedicated RCA's Official Color Television Communications Center at the New York World's Fair with the promise that soon television will be a global service to which all nations can contribute and from which all nations can benefit. A quarter century earlier, at the 1939 New York World's fair, General Sarnoff had the distinction of introducing black-and-white television to the American public. His dedication address at the 1939 Fair was prophetically entitled "Birth of an Industry."
SOURCE: Photos (both) RCA Department of Information, April 2, 1964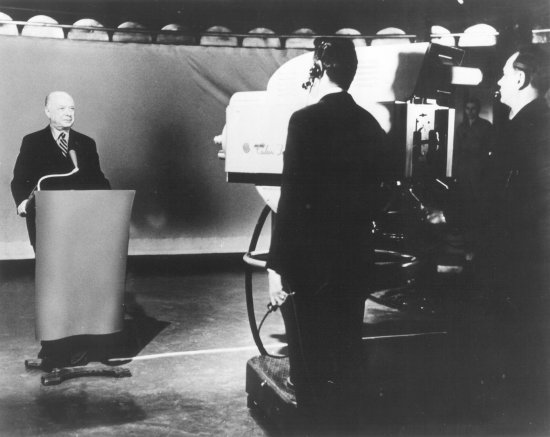 ---
And in Living Color...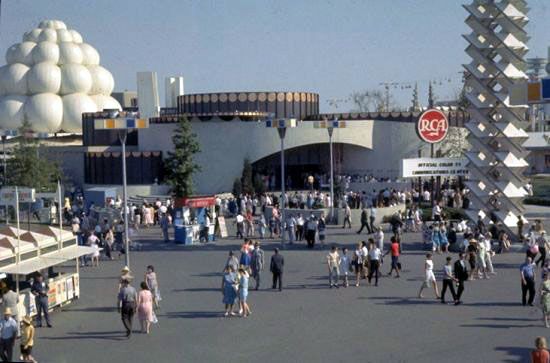 SOURCE: (top photo) © 2005 Mike Kraus

SOURCE: (bottom photo) © 2005 Bill Cotter - This photo and many more available for purchase at http://www.billcotter.com/nywf/index.htm

Photos used with permission
---
Pavilion Floor Plan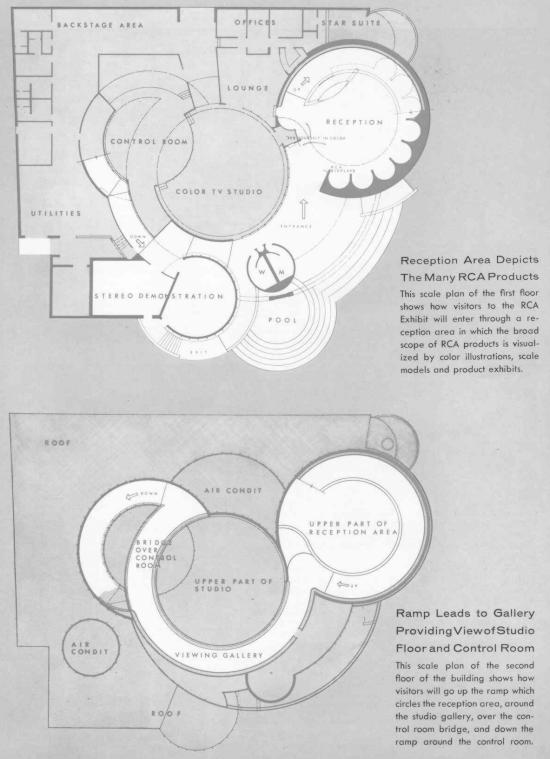 SOURCE: BROADCAST NEWS, Vol 118, Oct. 1963, published by Radio Corporation of America Broadcast and Communications Products Division, Camden, NJ
webmasters note: Tom McKeever writes: Having just looked at your web site about the RCA Pavilion in the '64 World's Fair I thought I might add an interesting tidbit. A few weeks ago I was listening to audio cds from NBC News' coverage of the Gemini 5 space mission, June 1965. During the coverage NBC News correspondent Peter Hackes was at the [RCA] Pavilion along with NBC's full scale mockup of the Gemini 4 space craft. He did live on-air reports during the mission explaining crucial events that were occurring onboard the craft. For the remaining 8 Gemini missions Mr. Hackes and the Gemini mockup were at Studio 8-H in the RCA Bldg. It was a great live promo NBC did for RCA back then. Tom McKeever, via email 1/03/2010.
Webmaster's note- Many thanks to Wayne Bretl for bringing RCA to nywf64.com. Wayne's personal photos of the interior of the pavilion and the "See Yourself..." exhibit bring back more memories than any of my reproduced brochures could ever bring. If you'd like to contact Wayne and share your memories of seeing yourself on Color TV, you may do so at waynebretl@cox.net. Many thanks to Bill Cotter, Mike Kraus and Bradd Schiffman for their contributions as well.
-Bill Young, February 2004