SOURCE: Rheingold advertisement; Internet Auction (eBay)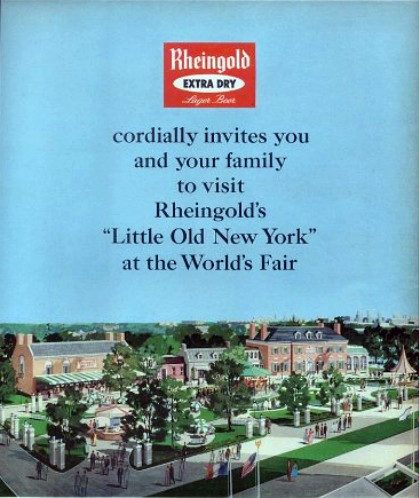 Don't miss seeing this authentic corner of New York as it was in 1904. There's a Victorian restaurant, The Rheingold Tavern, a sidewalk cafe and a real village green with good food, plenty of cold Rheingold, band concerts and other entertainment. So come on out. Plan to meet your friends and enjoy a frosty glass of Rheingold Extra Dry at "Little Old New York."
---
Artist's rendering of Rheingold's Little Old New York
SOURCE: Commercial Transparency by Photo Lab, Inc., Washington, DC
Rheingold Tavern at Rheingold's "Little Old New York"
SOURCE: Commercial Transparency by Photo Lab, Inc., Washington, DC
Aerial view of Rheingold's Little Old New York
SOURCE: Internet Auction (eBay)