EXHIBIT

The Russian Orthodox Exhibit

AUTHORIZED REPRESENTATIVE

Mr. John Hennessy

Russian Orthodox Greek-Catholic Church of America, Inc.

2040 Anza Street

San Francisco 18, California

415 YU 2-2689

FAIR CONTACT

Mr. William Ottley

CONTRACT SIGNED

September 19, 1963

LOCATION

Block 7; Lot 6

Industrial Area

AREA

15,591 sq. ft.

ARCHITECT

Vogel and Strunk

101 Park Avenue

New York, New York

MU 5-0285

CONTRACTOR

Robert Glenn, Inc.

ADMISSION

Free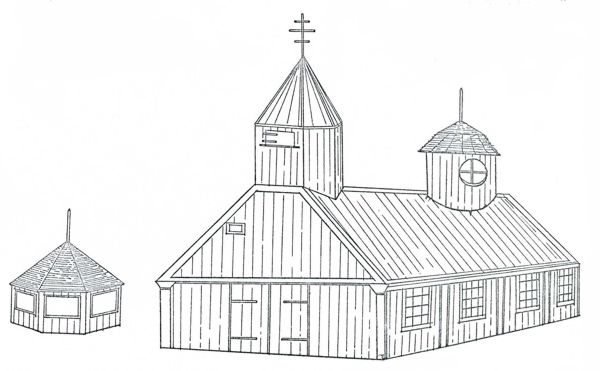 SOURCE: 1964 World's Fair Information Manual
FEATURES

The Russian Orthodox Church Exhibit is a replica of the Fort Ross, California Chapel, which was the first Russian Orthodox Church in the United States and the original of which is now a California Historical monument.

Within this building is the "Holy Ikon of the Virgin of Kazan" described by church authorities as follows: "A revered portrait, painted in Kazan, Russia about 1400 A.D., 11 inches by 13 inches in size; decorated with 1,009 gems valued at $500,000, including six emeralds from King Solomon's Mines; enshrined in 1630 at Kazan Cathedral in Moscow, which was specially built to receive it. Except for occasional removals from the Cathedral--once it was taken to the battle lines to inspire the Czarist troops in the defeat of Napeoleon at Moscow--the Ikon remained in the Royal Ikonostas until 1917 when, after the Bolshevik Revolution, it came into private hands."

In addition, there is displayed outdoors a cross-section of a giant California redwood log showing the hsitory of the wolrd and the history of the Holy Ikon worked on its rings.

Another small structure displays and offers for sale religious objects and publications of the Russian Orthodox Church.
---
Russian Orthodox Church Exhibit
Source: NY World's Fair Publication For Those Who Produced the New York World's Fair 1964-1965