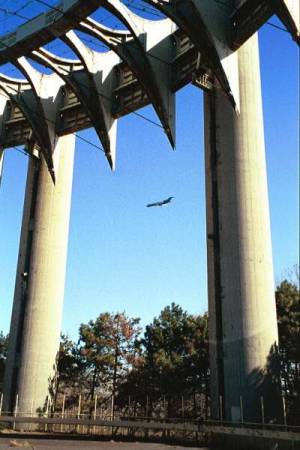 The opportunity to work on saving the NY State Pavilion and rehabilitating it into an Air & Space Museum was one of passion. I felt a missing dimension of my past and a legacy of the future that I wanted to leave all New Yorkers with. This project certainly had my juices flowing and adrenaline pumping on a daily basis! It gave me tremendous energy and insight, with tremendous amount of focus.
The talented and sincere people that I developed relationships with, especially with Mr. Frankie Campione, Mr. Bill Young, Mr. Alan Ritchie, and the Queens borough Presidents Office staff, will always be treasured. There was no shortage of determination, hope and discovering the purpose in life to make this project into reality by us.
All in all, I don't think anyone on our team was interested or concerned about fame or fortune. Personally I desired to have an impact on individuals and society in a positive way. Not to only save a building but to share the interest in aviation.
While Flushing Meadows Corona Park is a very big part of my past (I grew up in Flushing) it is a park by design. What I mean by this is people need recreational facilities to relax and socialize in, to let their energy out and be with friends and family. The park does shine for this very purpose.
At the same time the park has been rich in history from both World's Fairs and by serving as the UN Headquarters. This shows how versatile a park can really be. With that in mind, preserving the remaining structures into something useful for all and adding an attraction to bring people into the park was why Frankie and I felt is was so important to save the pavilion.
In my opinion, what caused this project to be pushed aside and not contracted to us was the lack of direction from the Parks Department. We did everything they asked us to do and MORE. That's a fact! For over 30 years the NY State Pavilion has been an eyesore without excuse. Who's fault is it? One can easily say lack of funds prevented the building from being maintained. But that's an excuse for poor planning. Someone needs, at the city level to take responsibility and make things right for all.
In ending, the words from Jim Rohn:
THE CHALLENGE
Let others lead small lives, but not you.

Let others argue over small things, but not you.

Let others cry over small hurts, but not you.

Let other leave their future in someone else's hands, but not you.

Charles A. Aybar, PhD

Scottsdale, AZ

July, 2006
---
"There is a crime here that goes beyond denunciation.

There is a sorrow here that weeping cannot symbolize.

There is a failure here that topples all our success. "
So wrote John Steinbeck in the Grapes of Wrath back in 1939, ironically the year of the first World's Fair at Flushing Meadows. In the past four-plus years of working on this project, Bill has called the little brushes of coincidence "Providence." Charles calls them "destiny." Me? I'm not that deep (OK maybe I am but not on the surface). I wasn't born yet so I couldn't attend the 1964/1965 World's Fair let alone the 1939. So how does a young architect in New York come to play this part in a saga of bureaucratic inadequacy? Simply put - Passion. I, like a lot of New Yorkers, fell in love with a dream (strike one say my developer clients - Never fall in love with your project). A dream that I have passed by hundreds if not thousands of times on the LIE, Grand Central Parkway and Van Wyck Expressway, unbuckled, sitting on my knees with my face pressed against the window in the back seat of an Oldsmobile, to and from the city with my folks. Today, I'm passing by with my three-year-old staring at the same icon from his plush, triple checked, Good Housekeeping Seal of Approval, baby car seat-recliner. We stare at the same ruin the same way. "New York's very own Stonehenge" as I have deemed it - the New York State Pavilion.
"Mom there was a Fair here? Like with rides? Do you have pictures? What's left? Can we go see it? Nothing?!? Why not? Disney was here?? The same Disney we go see every year?!?!? Now I really want to see it! It's not safe? What do you mean? Dad take me… Why not? What's not safe??"
And so went the 70's. And off to college I would go in the 80's during which I would stumble across a bit of information from an elective class -- information I would use a little over a decade later: The Central Park Conservancy's Year 2000 Plan. Good thing I kept a copy. It's a "road map" for any non-profit organization looking to make something work when the local, city, state, and any other agency just can't. And of course, we know it worked. Look at Central Park today! Give the credit to the Parks Department, that's OK -- while four of five employees taking care of Central Park are Conservancy employees, not NY City Park employees -- that's OK as well.
So we will propose to do the same. We don't want any credit; let them take the credit. We just want(ed) action. The fact remains it worked and it worked right here in New York on Park's property in Manhattan, so why wouldn't it work again? To allow a non-Parks entity with a noble aim to assist in Park's work.
It can. It should in the real world. In a world where people learn from their mistakes and in a world where people don't have hidden agendas and in a world where results matter.
The debacle at the New York State Pavilion, and throughout numerous projects at Flushing Meadows, tells you that results matter perhaps in Manhattan -- but not in Queens. Not in the park that houses the main headquarters for the Parks Department. Not in our own backyard. Not in the park that we pretend is so beautiful for only a few short weeks during the USTA's US Open Tennis Tournament when we light and fill the reflecting pools and then keep them drained for the other eleven months of the year. Not in the park that allowed the USTA to turn its back on it. Not in the park that allows the Hall of Science to expand, while under the same breath states "no more museums!" (We suggested using the NY State Pavilion for the Hall of Science expansion space and were quickly told "do not go there.") Not in the park that so proudly boasts astro-turf soccer fields with the maple leaf Park Logo in the LaGuardia Airport flight path. (But when we had a major airline willing to put advertising on the top of the pavilion in return for a springboard to stabilization funding we were told "no advertising in the park." But go ahead and allow naming rights to the new Mets stadium located within parks property and of course that will be OK.)
Before I sound like a whining little architect with no clout, understand this about CREATE: We have consistently ranked in the top 25 retail firms nationwide for the past six of our total nine years of being in business. Last year, I was ranked one of the "40 Under 40 Persons to Watch in the Retail Industry." I tell this not to boast, but so that no reader thinks CREATE is just some "young paper architect with a dream." We have designed and have built literally over a million, if not millions, of square feet of commercial work in the time we have spent working on the NY State Pavilion. However in Queens we unfortunately have nothing to show for our efforts. This is the failure I parallel with Steinbeck.
Above I noted "in a real world." In the real world there are deadlines, budgets, and, most importantly, consequences. Clients have funding and bring a project to fruition. They set deadlines and meet (or in our case beat) them. A dormant property makes no money. It's a liability and liabilities have consequences. People lose jobs for lack of product, lack of innovation. Plain and simple -- for the lack of doing a job! The NY State Pavilion is a liability. Don't kid yourself. The Parks Department knows it. However it's a non-issue. It doesn't cost anything in the shape it's in. It doesn't make or loose money. The fact that Parks could not see past the immediate future to the long term residual effect our proposal would have accomplished for them is, to be blunt, short sighted. The Pavilion in its present shape is a decimal point on the annual budget. It will only become an issue when further deterioration forces a situation. I pray it's not catastrophic.
I'm not as eloquent as Charles. I don't have to be. I get to draw pretty pictures and make them stand up. I ramble. I run around. I beat myself up at all hours of the night making schedules, producing product. Charles has always tried to make me see a light at the end of the tunnel. I have made a good friend. For that I thank him even if the light has blown out.
Bill has been my sounding board. He manages his day job, his family and the most unbelievable website one can find -- not just on the 64/65 World's Fair but if one just understands his undertaking and the information the site provides on a general level, it's a font of information gathered from thousands and thousands of sources. And here's Bill's biggest secret - he never even went to the Fair but you would assume he is based across the street in Queens! Bill has kept all the records of our plight over the four plus years. He recalled with accuracy my first "dial up modem" transmission explaining we were a firm in New York that could help. Little did I know then that you can't save someone from themselves. Bill, I am eternally grateful to have played a small part in your history of the Park. I truly, truly wish we could have done more.
So why now? Why end here? The last timeline entry states "Parks has raised $ 40,000!" Tell them to triple that, and let me know when they put forth half the effort we have.
"Hey you! You're reading this and you want to help? You didn't know all this was going on? You don't get the NY Times and you live in Indiana and went to the Fair as a kid? What can you do to help? Who do you write to? There has to be something… What happened to investigative reporting? Doesn't anyone want to crack this thing?"
All I can say now is, "Guys ... been there, done that."
But in case you need us we're still here as well. We're about to sign another ten year lease in the Chrysler Building. Come look us up.
But here you go Dulcinea: I'm done chasing windmills. It's your turn. Hey! I just looked it up on Google. That's from "Man of La Mancha," 1965. Destiny? Providence? Nah, just dumb luck.

Frankie Campione, AIA, Principal

CREATE Architecture Planning & Design

New York, NY

July, 2006
---
I became acquainted with Charles Aybar in the Spring of 2000. I had created a website called nywf64.com as an attempt to document the 1964/1965 New York World's Fair, its importance to our nation's cultural history and its legacies, both tangible and intangible. Charles came across the website and contacted me because of his interest in the Fair and, specifically, the New York State Pavilion constructed for the Fair. Very few tangible legacies remain. The most prominent among the few however is the Philip Johnson designed New York State Pavilion -- a monolithic 12-story open-air structure long abandoned and left to deteriorate on the old World's Fair site in Flushing, Queens, by the Parks Department of the City of New York.
Charles had developed a life-long love for the building as a Flushing teenager employed by the concessionaire of the New York State Pavilion in the early 1970s when the building was being used as a roller skating rink called the Roller Round. As an adult he was thoroughly disgusted with the New York City Parks Department's thirty years of neglect and obvious lack of interest in the building. He told me that he had an idea for a reuse for the building.
Dr. Aybar earned his degree in marketing and was employed as the Executive Vice-President of Sales & Marketing for an aviation consulting firm in Phoenix, Arizona. He was keenly aware of the public's fascination with aviation and space. The National Air & Space Museum in Washington, D.C. consistently ranks as one of America's top museums. The Kennedy Space Center draws millions of visitors each year. The New York State Pavilion's 12-stories of open air could be a natural showcase for aviation related displays. Flushing Meadows-Corona Park is already home to two popular museums: the Queens Museum of Art and the New York City Hall of Science. The proximity of Flushing Meadows to New York's airports, with airplanes flying low overhead day and night, makes it a perfect site for such a museum. New York City was the cradle for commercial aviation in America. Charles felt that the New York State Pavilion could become an Air & Space Museum and he told me in an email in December, 2000, that he was going to begin work to try to make this a reality. He would use his industry contacts to try to secure some private funding for renovation and reuse.
I was excited and intrigued by his idea. The vision of seeing a restored New York State Pavilion from the Long Island Expressway fully illuminated at night with glistening aircraft suspended in mid-air within the pavilion was one that I could not get out of my mind; though it seemed impossible that one man could turn thirty years of neglect into making such a dream come true.
A few days later, quite "out of the blue," Frankie Campione contacted me. Frankie is the principal of the Manhattan architectural firm CREATE Architecture Planning and Design. A native of Long Island, Frankie had been traveling the Long Island Expressway to and from Manhattan since he was a small child and was always fascinated by the space age structures left over from the Fair and the "big globe" in the Park as he rode by. One afternoon in late December, 2000, he decided to pull off of the expressway and explore the Park and its World's Fair legacies a bit further. As he looked at the wreck that the New York State Pavilion had become he felt he had to do something to try to save it. When he got home that evening he did an internet search on the Fair and came across the nywf64.com website and my email contact there. Quite simply Frankie asked me "What can we do to save the New York State Pavilion?"
I have often felt that it was Providence, therefore, that brought Charles Aybar and Frankie Campione together. That one would conceive an idea and, within just a few days through a mutual contact at an obscure website on the 1964/1965 World's Fair, be able to team with a partner who could bring ideas into reality with design and engineering concepts, seemed more than just coincidence to me.
I am honored to know Charles and Frankie. The word that best describes them is integrity. They are honest men who had an idea and a dream. The dream was sincere. They were not seeking personal gain and wished only to do something good for the community and to try to save something that each viewed as an important part of their personal history. They worked earnestly for four years to try to make that dream to restore the NY State Pavilion a reality and spent thousands of dollars of their own money on engineering studies, lawyer fees, phone calls and meetings.
The partnership and friendships formed in 2000 through a website connection culminated in a four-year effort to restore the New York State Pavilion at Flushing Meadows. At this time, the true success of this project is that the New York City Department of Parks & Recreation can no longer hide behind their thirty years of indifference, neglect and lack of imagination toward the New York State Pavilion. A spotlight has been turned on and focused on the New York State Pavilion at last! Let us hope that Park Commissioners Adrian Benepe and Estelle Cooper will be able to one day stand on the dedication stage of a renovated and revitalized New York State Pavilion. It is up to them now to make that dream become a reality. That is the least they owe Campione and Aybar for their outstanding efforts.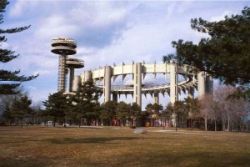 Bill Young, Host

nywf64.com

Website of the 1964/1965 New York World's Fair

July, 2006